Introduction
Radha and Krishna are very famous as the god and goddess of love, protection, and compassion. The names of Lord Krishna and Goddess Radha are inseparable; they always come together as one name, Radha Krishna. The name lord Krishna is originated from the Sanskrit word Krsna which is primarily an adjective meaning "Black", "Blue", "dark blue" or "the all-attractive". It is believed that it has eight incarnations of Lord Vishnu. He is perhaps the most popular of all the heroes of Hindu mythology.
His birthday is celebrated annually as Krishna Janmashtami as per the lunisolar Hindu calendar and according to the Gregorian calendar it is celebrated in late August or early September. The birthday of Radha falls 15 days after Janmashtami on the Ashtami of the shukla paksh of Bhadrapada month. This festival is celebrated as Radhashtami.
Born at: Mathura
Born on: Ashtami of the month of Bhadrapada (Krishna paksh)
Biological Parents: Devaki and Vasudev
Foster Parents: Yashoda and Nand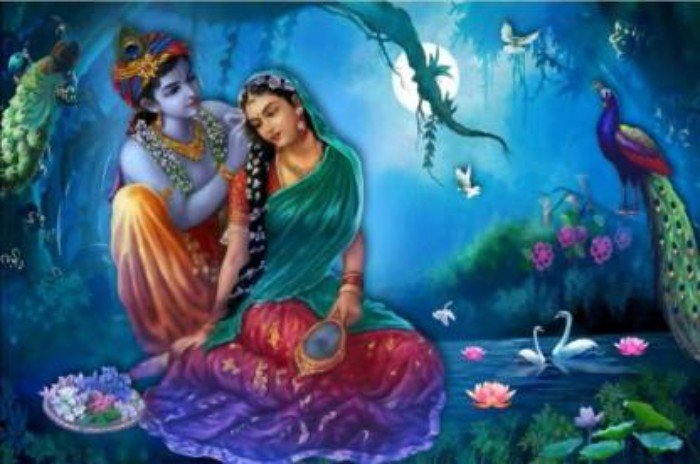 Birth Story of Krishna
It is believed that Krishna was born in Mathura in 3,228 BCE. The Puranas consider Sri Krishna's life to mark the passing of the Dvapara age into the Kali Yuga (current age). His biological parents were Devaki and Vasudeva. Kamsa was Devaki's brother and Krishna's maternal uncle.
As per the legends, it is believed that on Devaki's wedding, a celestial voice announced that Kamsa would be killed by Devaki's eighth child. So, Kamsa put Devaki and her husband, Vasudev, into prison. One by one, Kamsa killed 6 of his siblings, born before him. as the eighth child, Krishna was born at night on the ashtami during the Krishna paksh of the month of Bhadrapada. When he was born, it was raining heavily. Due to divine intervention, the prison doors opened and guards slept. As per divine orders, Vasudev took Krishna across the Yamuna to Gokul and handed him to his friend, Nandrai. His wife, Yashoda, too had given birth to a girl. So, they exchanged the babies and Vasudev returned to prison with the girl child.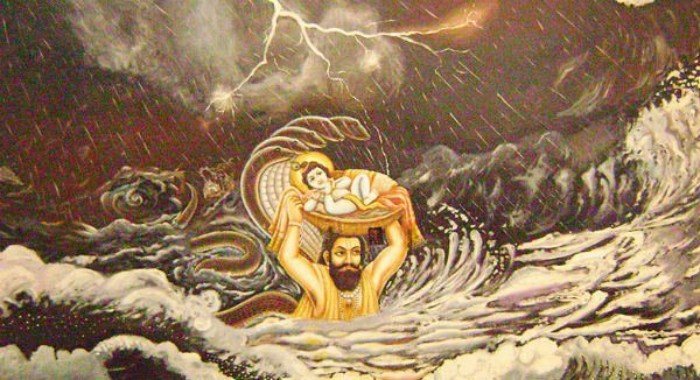 When Kamsa tried to kill the new-born girl, she flew out of his hand and turned into Hindu goddess Yogmaya. She warned Kamsa about his death by Lord Krishna, and then she disappeared.
So, Krishna was raised by his foster parents Nanda and Yashoda. This is the reason why Yashoda is considered as Krishna's first mother and Devaki second. He grew up with his two more siblings namely Balarama (as the elder brother of Krishna) and Subhadra.
Story of Radha
Radhika Devi is known as Goddess Radha or Radha Rani, and she is the incarnation of Goddess Lakshmi and a Hindu goddess who is worshipped like the icon of love, compassion and devotion. It is believed that she is of the chief gopi of Lord Krishna, during young she is described as the lover of Krishna but he is not married to her. However, Radha is considered as the female counterpart and the internal potency (heading shakti) of Krishna, who resides in Goloka, the celestial abode of Radha Krishna. Radha is alleged to accompany Krishna in all his incarnations. Everyone has heard that these two names are inseparable, it is considered as always together Radhekrishna.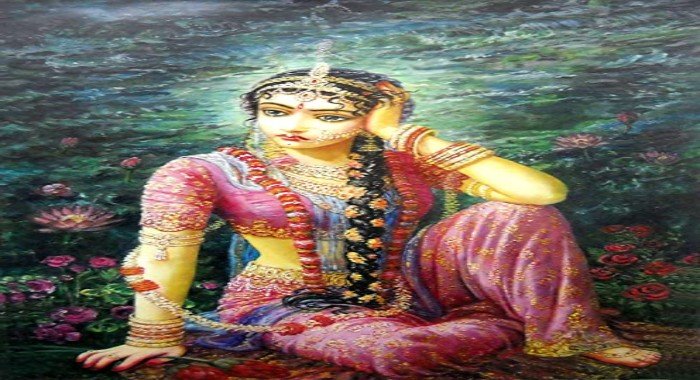 Story of  Krishna-Radha
The love story of Radha Krishna started at a very young age. As per the belief, when Krishna was a little boy, he started playing the flute for the grazing cows. Whenever Krishna played the flute, everybody and everything was taken into a trance that was fully pure and beautiful. Even the Gopis, or the cowgirls, would stop what they were doing, realise Krishna, and start dancing around him in his love. However, one Gopi, Radha had captivated him. The entire universe yearned for Krishna however he yearned for Radha. They met and fall in love when they were very young.
Radha Krishna used to meet and dance in the garden which is known as Nidhivan (Madhuban) at Vrindavan. Even they used to celebrate all the festival together with their friends and relative, Holi is one of the festivals, which shows the pure love among them. This place is always remembrance as the love place of Radha Krishna, devote still visit this place to feel the love and devotion.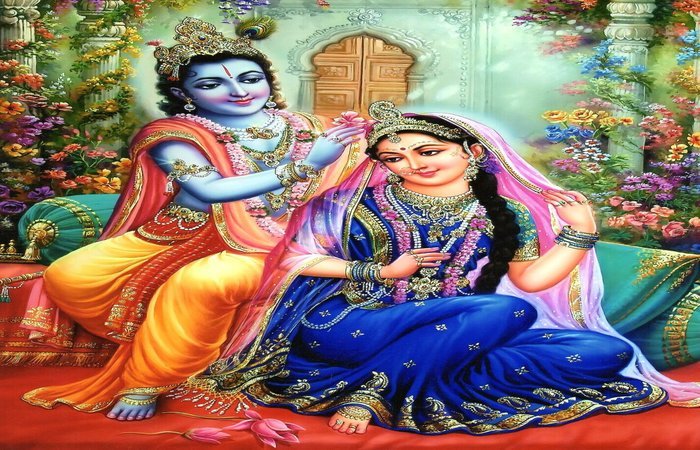 It is also believed that they got married in their childhood while playing however there was nobody to witness and this is the reason why Radha is not considered as the wife of Lord Krishna. However, the love they shared is impossible to describe in words, when Radha was not able to take a glimpse of Krishna, she did work as a maid at Lord Krishna's house so she could see him daily before her marriage but later she realised that it is more painful to maintain the distance being physically present near to him and lastly she decided to leave without informing anybody.
The love story of Radha Krishna is seriously incomplete without bansuri (flute), everyone loves to enjoy the amazing play of Lord Krishna but few know that Krishna lastly played it just for Radha and after that, he never used his flute. When they both felt that the last moment had arrived and after that, they had to separate, so Lord Krishna wanted to present something to Radha but she denied to take anything from him, lastly, she asked to play a piece of divine music for her, he dedicated his last play for Radha and promised her to never play it again. The love they shared is very pure and full of devotion; it is not an ordinary bonding of man and woman. Radha was Krishna's keen devotion.
Last Meeting of Krishna-Radha 
After many years of separation, Radha decided to saw a last glimpse of Krishna. At that time, she was weak and old but beautiful at the same, she covered a long-distance walk to reached Krishna once. By that time she was free from all the domestic and family responsibilities. Entering Krishna's palace, she caught a glimpse of Devakinandan and was awestruck by the Lord's godly beauty. At her last breath, Krishna asked her to make a wish but she denied it firstly afterwards she demanded a flute play for her during days and nights and she spiritually merged with Krishna. She abandoned her body and that place while listening to the devotion of love by the flute. Lord Krishna could not bear this heartbreak and Radha's death, so he broke his flute as a symbolic ending of love.
Radha and Krishna are world-famous for their love and devotion to each other. They both loved each other selflessly but did not marry each other. There are many bhajans, which reflect that they were madly in love with each other and always respected each other's feelings. They sacrificed their love and got separated but within their heart, they were always one. This is the reason Lord Krishna promised Radha that whenever people want to call me they will have to call you first. Here is a mythological belief that Lord Krishna is known for his different energies. So, his different avatars are dedicated to his external energies whereas the internal strength is only Radha – an incarnation of Shakti on earth. She has always believed in the inner energy of Lord Krishna. At all ISKCON temples wherever there is an idol of Lord Krishna there is an idol of Radha
Frequently Asked Question About Krishna-Radha Story
Q. 1: Is Lord Krishna only known by the name of Kanhaiya?
Ans: No, Lord Krishna has different names at different places. In Uttar Pradesh, he is known as Kanhaiyya, Bihari and Thakurji, in Odisha as Jagannath, in Maharashtra as Vithoba, in Rajasthan as Shrinathji, in Kerala as Guruvayoorappan, in Gujarat as Dwarakadheesh, and in Tamil Nadu, he is known as Parthasarathy.
Q. 2: Why Radha comes first to Krishna?
Ans: The name of Goddess Radha is always taken before Lord Krishna. As per Hindu mythology, as mentioned in Shrimad Devi Bhagvat, Lord Krishna only listens to the devotees who take the name of Radha first. Therefore, if you want to call Krishna then call Radha rani first. Where there is Radha, there is Krishna.
Q. 3: How did Krishna marry 16000 wives?
Ans: According to Hindu texts, Lord Krishna had around 16,000 wives. Krishna accepted all of them as his wives because of the society who saw them as slaves of the demon king Narakasura. His main wife was Rukmini. However, his heart was only Radha.
Q. 4: At what age Krishna left Radha?
Ans: It is believed that at the age of 10 years he left Vrindavan, all the gopis, his flute, and his beloved Radha. After the death of Kamsa, a new chapter started in his life and he could never return to Vrindavan.
Q. 5: Did Radha Krishna both ever get married?
Ans: In real they never got married to each other. However, it is believed that in their childhood while playing they get married but it was not considered as real. After that, they never get married and Lord Krishna married his eight principal wives and about 16,000 junior wives.