Radha Krishna is pair of god and goddess, world-famous, for their unique love relationship with each other. Lord Krishna is known as the god of love, protection, and compassion. The name of Lord Krishna is originated from the Sanskrit word 'Krsna' which is primarily an adjective meaning "Black", "Blue", "dark blue" or "the all-attractive". It is believed that it has eight incarnations of Lord Vishnu. He is perhaps the foremost standard of all the heroes of Hindu mythology. His birthday is celebrated annually as Krishna Janmashtami as per the lunisolar Hindu calendar and according to the Gregorian calendar it is celebrated in late August or early September.
Radhika Devi is known as Goddess Radha or Radha, a Hindu goddess who is worshipped as the icon of love, compassion, and devotion. It is believed that she is of the chief gopi of Lord Krishna, during young she is described as the lover of Krishna but he is not married to her. However, Radha is considered as the female counterpart and the internal potency (heading shakti) of Krishna, who resides in Goloka, the celestial abode of Radha Krishna. Radha is alleged to accompany Krishna in all his incarnations. Everyone has heard that these two names are inseparable, it is considered as always together Radhe Krishna
Why These Two Names are Considered Inseparable Radha Krishna?
They are worshipped together however they were not a life partner and never got married to each other still Radha comes before Krishna as Radha Krishna. Here is a mythological belief that Lord Krishna is known for his different energies. So, his different avatars are dedicated to his external energies whereas the internal strength is only Radha – an incarnation of Shakti on earth. She has always believed in the inner energy of Lord Krishna and that's why they are inseparable.
How Did They Meet the First Time After Incarnation on Earth?
There are several legends that describe their first meeting. The most commonly believed legend is mentioned below. They met in their childhood when Krishna was just about five to six-year-old, and Radha was a little older. Krishna always used to go with his father to the field for feeding the cattle. Krishna created a thunderstone at the field and pretended to know nothing. It started raining strongly and he began crying and held his father tightly for protection. Nand Rai (Krishna's father) had to take care of both Krishna as well as cattle.
His father was seeking help and suddenly he saw a woman coming his way, he asked for help from her and asked to take care of his child so he could take care of the cattle properly. The woman assured him to take care of Krishna and he left home with cattle. When the woman and Lord Krishna were alone, something surprising happened to her. Lord Krishna appeared in the form of a young boy, wearing orange color clothes, peacock feathers on the head, dark-skinned, and holding a flute in his hands. With this presentation, he asked to woman whether she remembers the same incident when they were used to be in heaven before their incarnation on earth and she said yes. That woman was no one else, but Radha, his beloved. This was the first incident when they met after incarnation on the earth.
Radha Krishna Got Married But It Was Not Real
Yes, it is believed and there is some evidence in ancient texts that they both had a connection from childhood and they used to play together many times. Once, while playing they did marry each other in play. However it was not a real marriage. This is the reason, why Radha is not considered as the wife of Lord Krishna. This was a mutual decision taken by both Lord Krishna and Goddess Radhika not to marry each other, some of the legends describe that Radha did not consider herself to be a perfect match for him, they showed the highest of their devotion to love by not marring to each other meanwhile loving each other by the depth of heart. This is the main reason why their love is considered the greatest and they are known as the ideal for love.
There Was a Special Meeting Point
It is believed that they used to meet secretly in Vrindavan. As Lord Krishna was popular for his amazing flute play, he played it every day among all these gopi's by the lakeside that used to captive everyone to come to Krishna, however, Radha was the most affected by his flute play and they always meet at their favourite the garden which is known as Madhuban, where they used to dance and enjoy Krishna's flute play with lots of love. This place is always remembrance as the love place of Radha Krishna.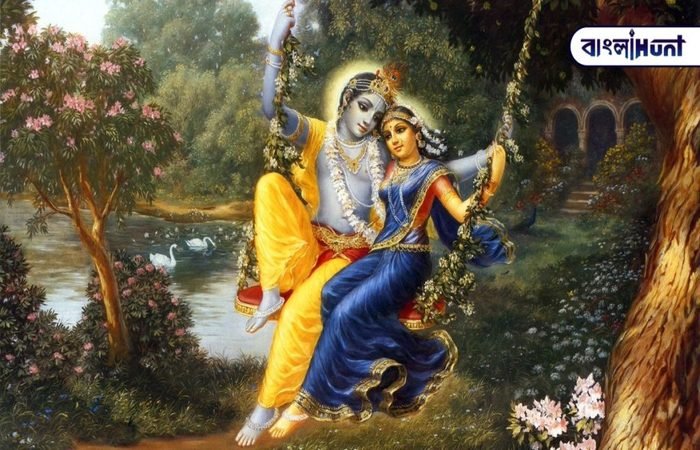 The Last Meeting In Silence
When Lord Krishna moved to from Vrindavan, everyone was sad and heartbroken and Radha Rani was one of them. All people of Vrindavan were sad to know the fact Krishna wouldn't come back. Before starting a new journey to Mathura, Lord Krishna decided to spend some peaceful moments with Radha in absolute silence because silence is always more powerful than words to understand the feelings between two lovers. Radha and Shyamsundar are considered two bodies but one soul. They were indivisible even when the Lord was not present with her physically. Real love was they were sharing and dedicated for each other. Although the divine couple parted, they were never apart as a result of Devkinandan lived in Radha's heart and Radha in the Lord's heart.
Last Play Of Flute (Bansuri)
The love story of Radha Krishna is incomplete without the mention of Bansuri (flute), everyone loved to enjoy the amazing play of Lord Krishna but few know that Krishna last played it just for Radha and after that, he never used his flute. When they both felt that the last moment had arrived and after that, they had to separate, so Lord Krishna wanted to present something to Radha but she denied to take anything from him, lastly, she asked to play a piece of divine music for her, he dedicated his last play for Radha and promised her to never play it again. The love they shared is very pure and full of devotion; it is not an ordinary bonding of man and woman. Radha was Krishna's keen devotion.
At Their Old Age
After many years of separation, Radha decided to saw the last glimpse of Krishna, that time was weak and old but beautiful at a time, she covered a long-distance walk to reached Krishna once. By that time she was free from all the domestic and family responsibilities. Entering Krishna's palace, she caught a glimpse of Devkinandan and was awestruck by the Lord's godly beauty.
ISKCON Temple (International Society of Krishna Consciousness)
It is recorded that there are around 850 ISKCON temples around the world where devotees perform the worship of Radha Krishna. Vrindavan Chandrodaya Mandir is a very famous temple of Radha Krishna which is under construction at Vrindavan, Mathura, India. As planned, it will be the tallest religious monument in the world by 2024. At its potential cost of ₹300 Crores (US$42 million), it is likely to be one of the most expensive temples in the world.
Frequently Asked Questions about Radha-Krishna
Q. 1: Who was Lord Krishna married to?
Ans: As per the mythology, Lord Krishna had 8 principal wives known as ashta-bharyas (meaning 8 wives). In addition, he married 16,100 girls, who he had liberated from the captivity of Narkasur, who are called his junior wives. The names of his 8 principal wives are Rukmini, Satyabhama, Jambavati, Kalindi, Bhadra, Mitravinda, Satya, and Lakshmana.
Q. 2: Did Radha and Krishna ever get married?
Ans: In reality, they never married each other; however, it is believed that in their childhood while playing they get married but it was not considered as real. After that, they never get married and Lord Krishna married his eight principal wives and 16,000 junior wives and Goddess Radhika married Abhimanyu the son of Jatila (a gopi).
Q. 3: Did Radha played the role of a maid at Krishna's palace?
Ans: Yes, Radha did the job of a maid at Krishna's palace just to get a glimpse of Krishna every day. But she realised in few days that it is more painful to maintain the distance being physically present near to him and lastly she decided to leave without informing anybody.
Q. 4: Why name of Radha comes before name of Krishna?
 Ans: The name of Goddess Radha is always taken before Lord Krishna. Mythology said and also written in a book called Shrimad Devi Bhagvat, describes that Lord Krishna only listens to the devotees who take the name of Radha first. Therefore, if you want to call Krishna then call Radha rani first. Where there is Radha, there is Krishna.
Q. 5: When did Lord Krishna play his flute the last time?
Ans: It is believed that Lord Krishna played for Radha at her last breath during days and nights and she spiritually merged with Krishna. She abandoned her body and that place while listening to the devotion of love by the flute. Lord Krishna could not bear this heartbreak and Radha's death, so he broke his flute as a symbolic ending of love.