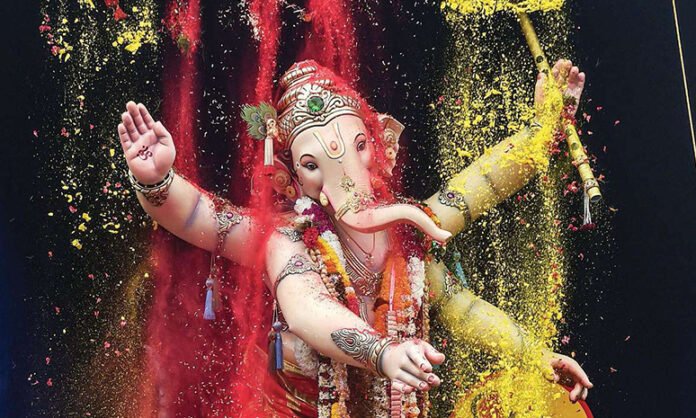 Ganesh Chaturthi history is fascinating not just because of it is an elephant god, but also because of the love Indians have for their favorite god. Vinayak Chaturthi, more popularly called Ganesh Chaturthi is one of the major Hindu festivals, which is celebrated all over India with great fervor. The festival is celebrated for 10 days from the 4th to 14th day of Bhadrapada month, according to the Hindu calendar, and August or September of the Gregorian calendar. The 10-day festival celebrates the journey of Lord Ganesha, along with his mother from Kailash Parbat, (which according to Hindu mythology is believed to be the abode of his parents Lord Shiva and Mother Parvati).
About Ganesh Ji
| | |
| --- | --- |
| पिता- | भगवान शंकर |
| माता- | भगवती पार्वती |
| भाई- | श्री कार्तिकेय (बड़े भाई) |
| बहन- | अशोकसुन्दरी |
| पत्नी- | दो (१) ऋद्धि (२) सिद्धि |
| पुत्र- | दो 1. शुभ 2. लाभ |
| प्रिय भोग- | मोदक, लड्डू |
| प्रिय पुष्प- | लाल रंग के |
| अधिपति- | जल तत्व के |
| प्रमुख अस्त्र- | पाश, अंकुश |
| वाहन- | मूषक |
Legend Behind Ganesh Chaturthi
According to the popular legend, once it so happened, that Goddess Parvati was going for a bath. She wanted someone to be on guard, while she took the bath; she took some sandalwood paste and made it into a statue of a boy. Using her magical power, she infused life into it. And that's how Ganesh was born.
Ganesh stood outside to guard the entrance while Goddess Parvati took a bath. After some time, Lord Shiva returned. Because Ganesha did not recognize him, he did not allow Lord Shiva to enter. Lord Siva tried to explain to Ganesh, but he did not agree. This angered Lord Shiva, and he used his Trishul to severe the child's head.
When Goddess Parvati came to know what had happened, she was devastated and heartbroken. Lord Shiva also realized his mistake and ordered his army of ganas to get the head of the first living creature they could find to replace on Ganesh's body. The first living creature they found was a baby elephant. So, they brought the head of that baby elephant. That is how Ganesha came back to life with the head of an elephant. Lord Shiva was also pleased and made him the leader of the ganas, or Ganpati.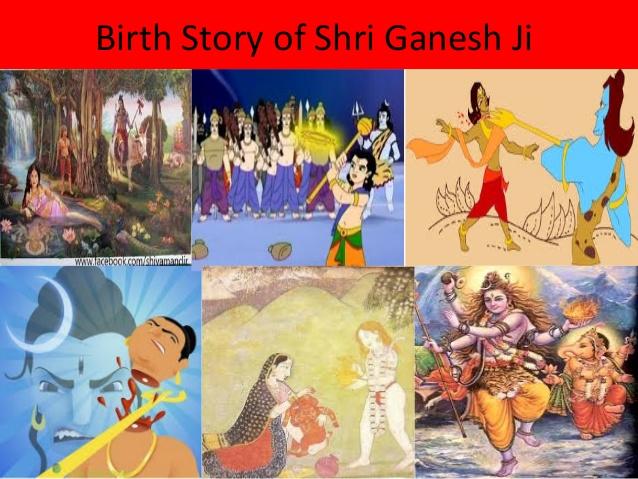 Ganesh Chaturthi History:
Although there are no records to suggest, when and how Ganesh Chaturthi was celebrated the first time. As per historical records available, the festival has been celebrated since the rule of Shivaji Maharaj, the founder of the Maratha Empire. The Peshwa rulers of the 18th century were great devotees of Lord Ganesha and they started celebrating Ganesh Chaturthi historically as a public festival in their capital city of Pune. During British rule, the festival no longer had state patronage, so it was reduced to a private family celebration in Maharashtra.
if one looks at the ganesh chaturthi history, the festive again came to the limelight with the efforts of a social reformer, Bhausaheb Laxman Javale (also known as Bhau Rangari), who started celebrating this festival as a public event. The year was 1892 when he installed the first public Ganesh idol in Pune.
Great freedom fighter Lokmanya Bal Gangadhar Tilak openly praised the public celebration of the festivals in his newspaper called Kesari. And after the Hindu-Muslim communal violence broke out in Bombay and the Deccan riots, Lokmanya Tilak felt that the British India government under Lord Harris has been biased and not given fair treatment to Hindus. This was because; the Hindus were divided into various castes and classes, and not well organized
In an attempt to unite the Hindus together, Lokmanya Tilak recognized Lord Ganesha's appeal as "the god for everybody" including the common man. He saw this as a great opportunity to use this festival as a means to bridge the gap between the Brahmins and the non-Brahmins, especially the so-called 'lower caste' people of the society. He wanted to use this festival to work as a glue to bind the people of India at the grass-root level. He wanted to unite the people and encourage them to fight against British colonial rule. He started celebrating the festival on elaborate pandals. Various activities and competitions were held to unite the people.
History of Ganesh Chaturthi Festival:
Lord Ganesha is revered as the first God and is always worshipped first before any other God. He is known as the 'vighna-hartaa' (trouble-shooter). In addition, he is associated with intelligence, writing, making a new beginning, and good fortune. He has about 108 names, the common ones being Ganesh, Ganpati, Gajanana, Gajadant, Ekdant, among others.
When is Ganesh Chaturthi Celebrated?
The 10-day festival begins on the 4th day of Bhadrapada month when people bring Lord Ganesha idols to their homes or pandals. They offer daily prayers and observe fast. Offerings and prasāda from the daily prayers are distributed to everyone, which includes sweets such as modak, which is believed to be a favourite of Lord Ganesh. Various kinds of competitions are conducted during these 10 days. 
To read in detail, click here: Ganesh Chaturthi 2021- Date, Where to see, Types, Religious Significance
To read in detail, click here: Ganesh Chaturthi – When and How is it celebrated?
Celebrating Ganesh Chaturthi at Home:
Across Maharashtra, the festival is celebrated as Ganeshotsav. Many families carry small idols of Lord Ganesha (lovingly called Bappa) into their homes with great fervor. They install these statues and perform 'pran-pratishtha' (invoking life into the idol). They invite their friends and family members to visit their homes and seek blessings of Lord Ganesha. They worship the idol in the morning and evening and offer flowers and sweets like modak. At the end of worship, people sing aarti in favour of Lord Ganesha. Depending upon their family traditions, they perform this daily ritual, for 1+1⁄2, 3, 5, 7, or 10 days.
To read in detail, click here: How to Celebrate Ganesh Chaturthi Festival At Home
Celebrating Ganesh Chaturthi Publicly:
Apart from the private celebration of Ganesh Chaturthi, many local groups, resident welfare associations and trade associations celebrate the festival publically. They collect donations from various people and bring bigger Ganesh idols and create temporary called mandaps or pandals.
The first day, pran prathistha is done, followed by daily worship twice a day – once in the morning, and once in the evening. Apart from daily worship, various cultural and literary activities like quiz, singing, dancing is performed. In addition, various social and community health activities such as blood donation camps and other health check-up camps are organized for the common people. Food and donations are given to poor people.
The festival ends on the 14th day of Bhadrapada month when the people carry the idol in a public procession with music and group chanting. This day is also called as 'Anant Chaturdashi'.
On this day, people carry the idols and then immersed them in a nearby body of water such as a river or sea, with a request to come again soon the next year. This marks the return of Lord Ganesh to Kailash Parbat.
Foods Items Prepared on Ganesh Chaturthi:
The primary sweet dish made during the festival is called Modak. It is believed to be the favourite sweet of Lord Ganesha. A modak is a sweet made out of rice or wheat flour, stuffed with jaggery, dry fruits, and other condiments. The mixture is given a particular conical shape and cooked by steaming or frying. Another popular sweet dish is the karanji, which is quite similar to modak in composition and taste, but its shape is not conical, but semi-circular. In Goa, this sweet is called Nevri and is an integral part of Ganesh Chaturthi celebrations in Goa.
These offerings are known as naivedyam. Traditionally, naivedyam consists of a plate of 21 modaks in a plate.
To read in detail, click here: Food To Eat during Ganesh Chaturthi
The festival is celebrated all over India. However, it is most popular in the state of Maharashtra. In Mumbai alone, around 2 lakh idols are immersed annually. While most people get small idols, there are some famous pandals like Lal Bagh Ka Raja, where millions of devotees visit the pandal.
Related Post:
References Article: