Background:
India is a land of festivals. There are various festivals which are celebrated, round the year. One such is Ganesh Chaturthi festival. Also called Vinayak Chauth or Ganesh Chauth, this festival is celebrated all over India with great fervour by people of all walks of life, rich and poor.
When is it celebrated?
Ganesh Chaturthi is a 10-day festival, which is celebrated in the Bhadrapada month as per the Hindu calendar, which as per the Gregorian calendar falls in the months of August or September. This is a 10-day festival, which starts from the 4th day of Bhadra month and goes till the 14th day, which is called Anant Chaturdashi.
This year, the festival will be celebrated from Friday, 10 September 2021, and visarjan will be done on Sunday, 19 September 2021.
Significance of Ganesh Chaturthi:
Ganesh Chaturthi celebrates the birthday of Lord Ganesha. It also marks the coming to Earth of people's beloved elephant-headed god, along with his Mother Parvati. For these 10 days, Lord Ganesha is believed to stay on Earth. This is why people bring Ganesha idols to their homes and worship it. They pray to Lord Ganesha to take away all their sorrows and obstacles and bring them health, prosperity, and good luck.
The elephant-headed Lord Ganesha is associated with intelligence, wisdom, and prosperity. Lord Ganesh is believed to be someone, who will remove all obstacles from the lives of people, who pray to him. So, most Hindus remember him and seek his blessings before starting a work that is new or important.
This festival is celebrated throughout the world by the Hindus with great fervour, devotion and joy. In India, though it is celebrated across whole length and breadth, but it is very popular in states like Maharashtra, Gujarat, Goa, Madhya Pradesh, Karnataka, and Telangana.
Many names of Lord Ganesha:
In different parts of the country, and owing to his various qualities Ganesha is known by various names. Lord Ganesh is known by 108 different names. Some of the common names are Ganesh, Ganpati, Gajanana, Vinayaka, Vighnaharta, Ekdant, among others.
The Legend behind Ganesh Chaturthi 
As per Hindu mythology, Lord Shiva and Goddess Parvati have two sons. Their elder son is Lord Kartikeya, and the younger one is Lord Ganesha. There are various stories behind the birth of Lord Ganesha, but two of them are very popular and many people believe in those stories.
According to the first legend, Lord Ganesha was created by mother Parvati out of sandalwood paste to guard her in the absence of Lord Shiva. Mother Parvati made a statue and infused life into it. She then, gave him the task of guarding her bathroom door while she took a bath. In the meantime, Lord Shiva returned home and wanted to go inside. Ganesha, who didn't know who Shiva was, did not allow him to go inside. This angered Shiva and a battle started between them. The way, Ganesha fought bravely enraged Lord Shiva, and he used his Trishul to severe his head. After some time, when mother Parvati came to know all this, she was heartbroken and very angry. To pacify her, Lord Shiva promised to bring Ganesha back to life. He sent his army of ganas to bring the head of the first living creature they see. However, the first living creature they saw was a baby elephant. So, as per the orders given to them, they brought the elephant's head. Lord Shiva fixed the elephant's head on the child's body, and that is how Ganesha was reborn in the present form, with an elephant head.
The other popular story is that the devatas were being harassed a lot by the daanavs and raakshas (demons). The devatas wanted someone to save them from these demons. So, they went to Kailash Parbat to request Lord Ganesha and mother Parvati to do something to take care of them. Lord Shiva and mother Parvati accepted their request and gave birth to Ganesh, who then went on to protect the devatas from the demons and remove their obstacles, thus earning the name Vighnaharta (averter of obstacles) and helping Devas.
Importance of Ganesh Chaturthi
It is a firm belief that people who worship Lord Ganesha get his love and affection. Lord Ganesha fulfills all their wishes and desires. He sets them free of their sins and forgives them and puts them on the right path. A path that leads them to knowledge and wisdom.
History of Ganesh Chaturthi
While there is no record to actually indicate, how and when this festival started. But this festival has been celebrated since the times of Shivaji Maharaj, who was the founder of the Maratha Empire. After his death, Peshwa rulers who were great devotees of Lord Ganesha started celebrating it as a public festival. However, this trend stopped during British rule, and the festival became a private celebration limited to homes.
However, it was during the Indian freedom struggle that Lokmanya Tilak realized the mass appeal of Lord Ganesha and thought it of using it as a means to unite the masses. So, he again started celebrating Ganesh Chaturthi, publicly as a grand festival where people from all castes of the society can come together, pray, and get united.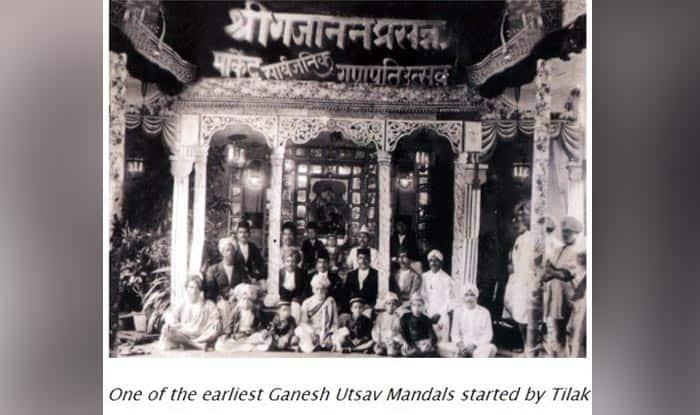 Rituals of Ganesh Chaturthi:
The 10-day long festival starts on Chauth and goes till Anant Chaudas. But the excitement of the festival starts several weeks before the festival actually begins. Local artists start preparing clay idols of Lord Ganesha in different sizes and even different poses. Many a times the poses reflect the current things happening in the society. On the day of Ganesh Chaturthi. People bring these idols to their homes. For the next 10 days, they worship the idols. During these 10 days, there are 4 main rituals, which are performed. These rituals are – Prana-Pratishtha, Shhodashopachara, Uttar Puja, and Ganpati Visarjan.
Ganesha idols are installed in nicely decorated 'pandal' at temples or localities. The idol is decorated with flowers, lights, and garlands. The first ritual performed is called 'Pran Pratishtha'. This is done on day one, where a priest performs religious rituals and chants mantra to invoke life into the idol. 

The idol is then worshipped for 10 days, twice a day. Prayers are then offered to the idol of Lord Ganesha in 16 different styles. This ritual is called 'Shhodashopachara', meaning 16 activities. The Prasad is offered to Lord Ganesha, in the form of naivedhyam. This Prasad is then distributed among all devotees. This includes sweets like Modak, Pooran poli, and karanji, which is then distributed.

The third ritual is related to bidding farewell to the deity. Uttar Puja is performed with great respect 

On the 11th day, the last ritual is performed, which is 'Ganpati Visarjan'. People take Ganesha idols in great procession with dance and music. During the procession, the people celebrate by singing or playing religious songs, dancing to drum beats, and by lighting up fireworks. They put gulaal on each other and wish everyone, which adds to the festive mood. They carry the idols to a water body and immerse it in water. While immersing it, people generally chant in the Marathi language 'Ganpati Bappa Morya, Purchya Varshi Laukari aa' which means 'Goodbye Lord, please come back soon next year'.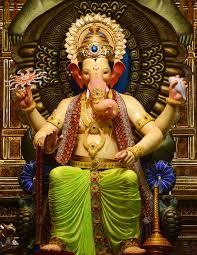 Conclusion:
Ganesh Chaturthi is a festival of masses. While some devotees celebrate this festival at home by installing a small idol in their homes, others pay their visit to Lord Ganesha at public pandals. People offer their due respect, prayers, and offerings to Ganesha. Over the years with growing environmental awareness, people have started celebrating Ganesh Chaturthi in an environmentally friendly manner. This includes making Ganesha idols out of natural clay/ soil and using only flowers and natural items for decorating the pandals.