While ganesh chaturthi is celebrated publicly with strong fervor, many celebrate the festival at home also. Lord Ganesha is among the most loved deities of all. This is why the birth of Lord Ganesha, Ganesh Chaturthi is celebrated with a lot of fervour by all Indians. The festival also marks the coming of Lord Ganesha to Earth, along with his mother Goddess Parvati.
In India, Ganesh Chaturthi is celebrated all over, however in some states it is celebrated on a large scale. These states include Maharashtra, Gujarat, Goa, Madhya Pradesh, Karnataka, Kerala, Andhra Pradesh, Telangana, and Tamil Nadu. Though the main festivals, since these are different regions, there are slight differences in the way people worship Lord Ganesha and celebrate the festival.
Celebrating Ganesh Chaturthi at home
Ganesh Chaturthi is one of the major festivals of our tradition and culture, celebrated mostly by the Hindus. People celebrate Ganesh Chaturthi, by bringing an idol of Lord Ganesha and worship for 10 days. On the 11th day, they carry the idol of Lord Ganesha in a musical and colourful procession. They carry the idol to a water body for immersing in some water body, where the visrajan is done.
The festival may be celebrated by individuals in their homes or by some group of people, residential society, or trade association publicly. When the festival is organized publicly, people bring in giant size idols of Lord Ganesha and install them in the pandals. They decorate the pandals with lights and flowers.
Ganesh Chaturthi Festival at home:
If we compare the way of celebration, there is a stark difference between celebrating Ganesh Chaturthi at home and in public. In Maharashtra, almost all families celebrate Ganesh Chaturthi ce at home. The way of celebrating Ganesh Chaturthi differs in each and every state. In Maharashtra, it is celebrated as Ganeshotsav.
Visarjan:
The celebration of Ganesh Chaturthi also denotes the significance of the cycle of birth, life and death. Normally after 1 ½ day, or whatever period the family wants, it is time to bid farewell to Lord Ganesha. People become very emotional at this time, because they start treating the idol of Lord Ganesha, as one of their family members. So, with a mix of joy and sadness, they prepare for the visarjan of Lord Ganesha. They arrange for music and dance and go with their family to a nearby water body, where the idol is immersed in water. Before immersing the idol, they take a promise from the god, to come again, next year, and that too as soon as possible. It is believed that when Lord Ganesha leave their homes, he takes away all the sorrows and obstacles of the home and with the immersion of the idol, all those sorrows and obstacles are also immersed in water.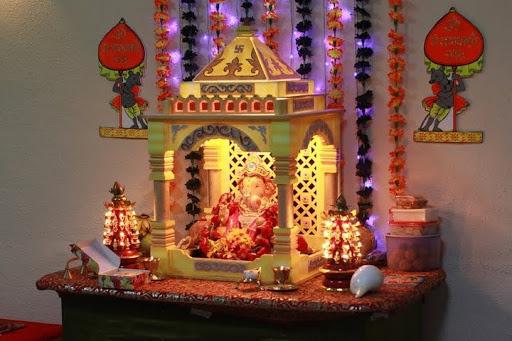 Ganesh Chaturthi Festival at Home:
During Ganeshotsav, almost all families in Maharashtra bring a small and colourful clay idol of Lord Ganesha, which they lovingly call 'Bappa'. They decorate their temple with durva (green grass), flowers, lights, and other decorative items and then install the idol there. They invite all their friends and relatives to come and visit their homes during this period.
During this period they worship Lord Ganesh twice in the day – once in the morning, and once in the evening. They offer fruits and sweets to Lord Ganesha. The sweets include the favourite of Lord Ganesha, which is the modak. It also includes other sweets like pooran poli and karanji. This is offered to Lord Ganesha, as 'naivaidhyam', and is then distributed as 'prasad' among all. At the end of worship, people in Maharashtra sing the famous aarti "Sukha Karta Dukha Harta" in honour of Lord Ganesha. This aarti was composed by the great saint of 17th century Samarth Swami Ramdas.
Depending upon the family culture and tradition, this ritual continues and it varies from family to family. While celebrating Ganeshotsav at home, the festival is celebrated for 1 ½ day, 3, 5, 7, or 10 days depending on the wish of the host. Though most families celebrate it for 1 ½ days.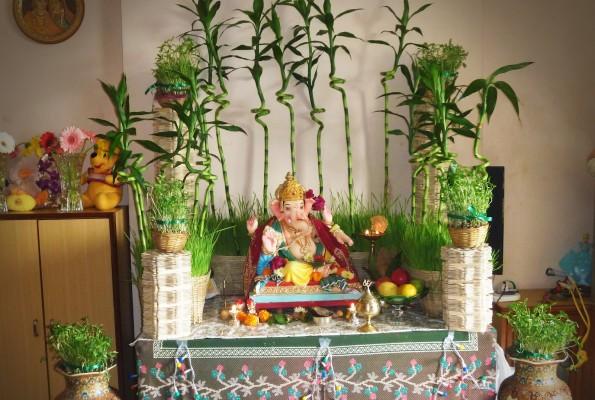 Source: https://ghar360.com/blogs/wp-content/uploads/ashwini-manjure–595×400.jpg
Ganesh Chaturthi in Maharashtra:
In Maharashtra, along with Ganesh Chaturthi, the women celebrate 'Hartalika', on the 'Tritiya (3rd day) during which they observe fast. This is done a day prior to the Ganesh Chaturthi. Some families also celebrate the Gauri festival along with Ganesh Chaturthi, where along with Lord Ganesha; they install the idol of Gauri which is the other form of Goddess Durga.
Ganesh Chaturthi in Goa:
In Konkani culture, Ganesh Chaturthi is celebrated as Chavath or Parab or Parva. People worship both Lord Shiva and Goddess Parvati. The women of the family observe fast. During the festival, people sing and dance and use traditional musical instruments like Ghumot, Pakhavaj or two-headed drum, and crash cymbals. The next day, people, especially farmers bring fresh paddy from their fields and offer it to Lord Shiva and Goddess Parvati. This is how the festivities are continued. This tradition is called Navyachi Pancham. During this festival, people do not consume any kind of non-veg food and turn completely vegetarian.
Conclusion:
Be it at home, or in public, the festival of Ganesh Chaturthi is celebrated with a lot of energy. People, especially kids, look forward to this festival with great excitement.
Related post: