During Ganesh Chaturthi, food items like Modak, Kheer, Pori and other tasty delicacies are served to the lord as well as consumed with great fervor by Indians. For every festival, there are separate food items and sweets, which are prepared and offered to gods. In many festivals, there are some food items, which are prepared, as it is considered auspicious to eat that food on the day.
Ganesh Chaturthi Food Items
Like all other festivals, Ganesh Chaturthi also has some food items, which are prepared, offered to god, and eaten by all family members. Some of the popular food items eaten during Ganesh Chaturthi are listed below:
1. Modak
This is the most common item and is a must during Ganesh Chaturthi. This is because; Lord Ganesh is believed to be very fond of modaks. So, every Ganesh idol figures with a bowl of modaks in his hands, or a modak in his trunk and Lord Ganesh savoring its taste.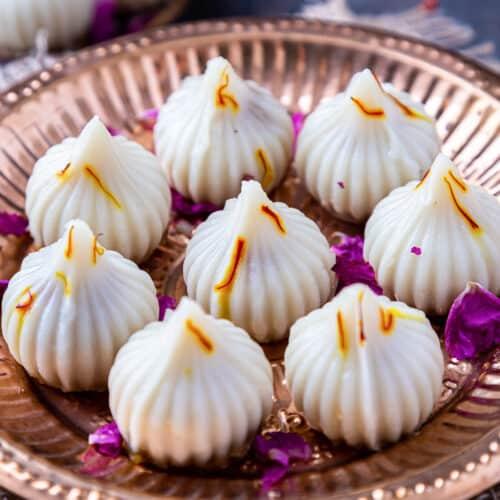 Modak is a kind of sweet steamed dumpling and a mandatory Ganesh Chaturthi food item. Normally Lord Ganesha is offered a 'naivaidhyam', which consists of 21 modaks.
It is made with rice flour and stuffed with jaggery and sweet coconut and then it is steamed. There are many variants of modaks, like dry fruit modak, chocolate modal, fried modak among others. Whatever way you prepare, it is a perfect offering to Lord Ganesha. After all, it is his birthday, and he deserves to get what he likes the most.
2. Motichoor Laddoo
Just like modaks, laddoos, especially motichoor laddoos are also liked a lot by Lord Ganesha. This is why you can see many idols of Lord Ganesha, where he is seen holding a bowl full of laddoos. Motichoor laddoos is one of the most common sweet offered to Lord Ganesha, which is later distributed among the devotees, who visit the public pandals.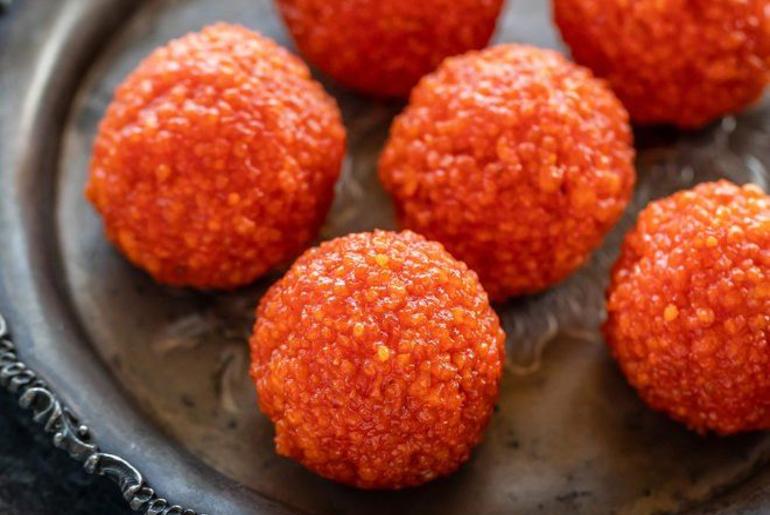 Also called boondi laddoos, these aromatic laddoos are made out of gram flour, Rava, or any dry fruits mixed with desi ghee and sugar. Some amount of saffron is added to it, to give it a unique colour and taste. In addition to motichoor laddoos, other forms of laddoos offered to Lord Ganesha include Coconut Laddoo, Til ke Laddoo, Atta Laddoo, and Nariyal laddoo.
3. Pooran Poli
This is one more delicacy of Marathi food. Pooran Poli is a delicious sweet dish, which is prepared and offered to Lord Ganesh on his birthday, in addition to modaks and laddoos.
Pooran Poli is actually a typical Marathi roti (flatbread), which is made out of wheat flour, maida, or chanaa dal and stuffed with a sweet filling of coconut, jaggery, and ghee. It is a delectable snack and widely prepared in Maharashtra to offer to Ganesha.
Every Marathi prepares Pooran Poli on Ganesh Chaturthi to offer to Lord Ganesha and then enjoy with family as his prasad.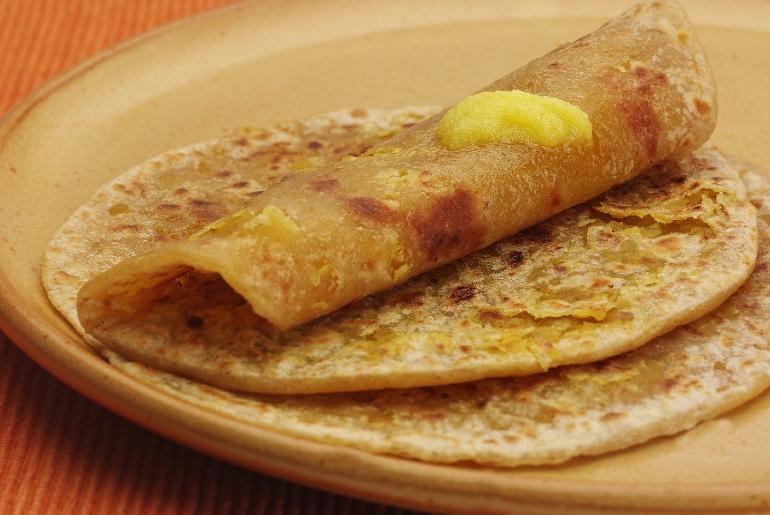 4. Peda
Lord Ganesha is believed to be fond of eating sweets. He liked all sweets, though his favourite is modak. But, he likes other sweets also, one of which is 'peda. So, this is yet another sweet which is prepared during Ganesh Chaturthi and offered to the elephant-headed deity.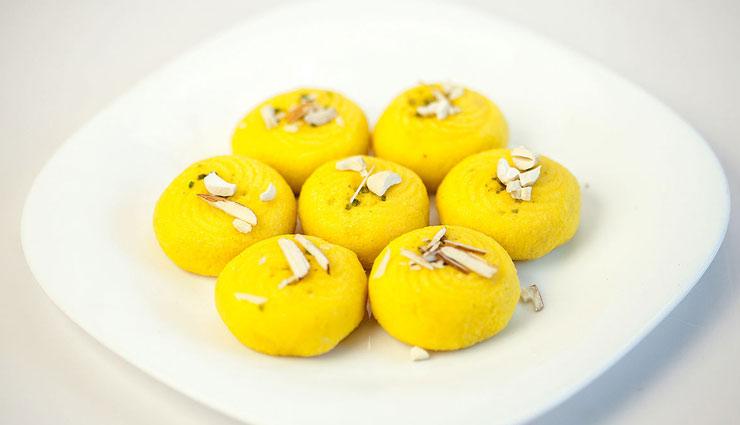 Peda is sweet made out of khoya and offered to Lord Ganesha. It is easy to prepare the dish, which is made out of milk, sugar, cardamom, and nuts that make it very delicious.
5. Shrikhand
One more kind of sweet dish which is very popular during Ganesh Chaturthi is called Shrikhand in Maharashtra, Gujarat, Rajasthan, and Madhya Pradesh. It is an appetizing sweet dish made of curd. A topping of nuts and raisins is provided to make this dish mouth-watering and appealing to eyes and soul. Cardamom and saffron are added to give it a royal taste and flavour.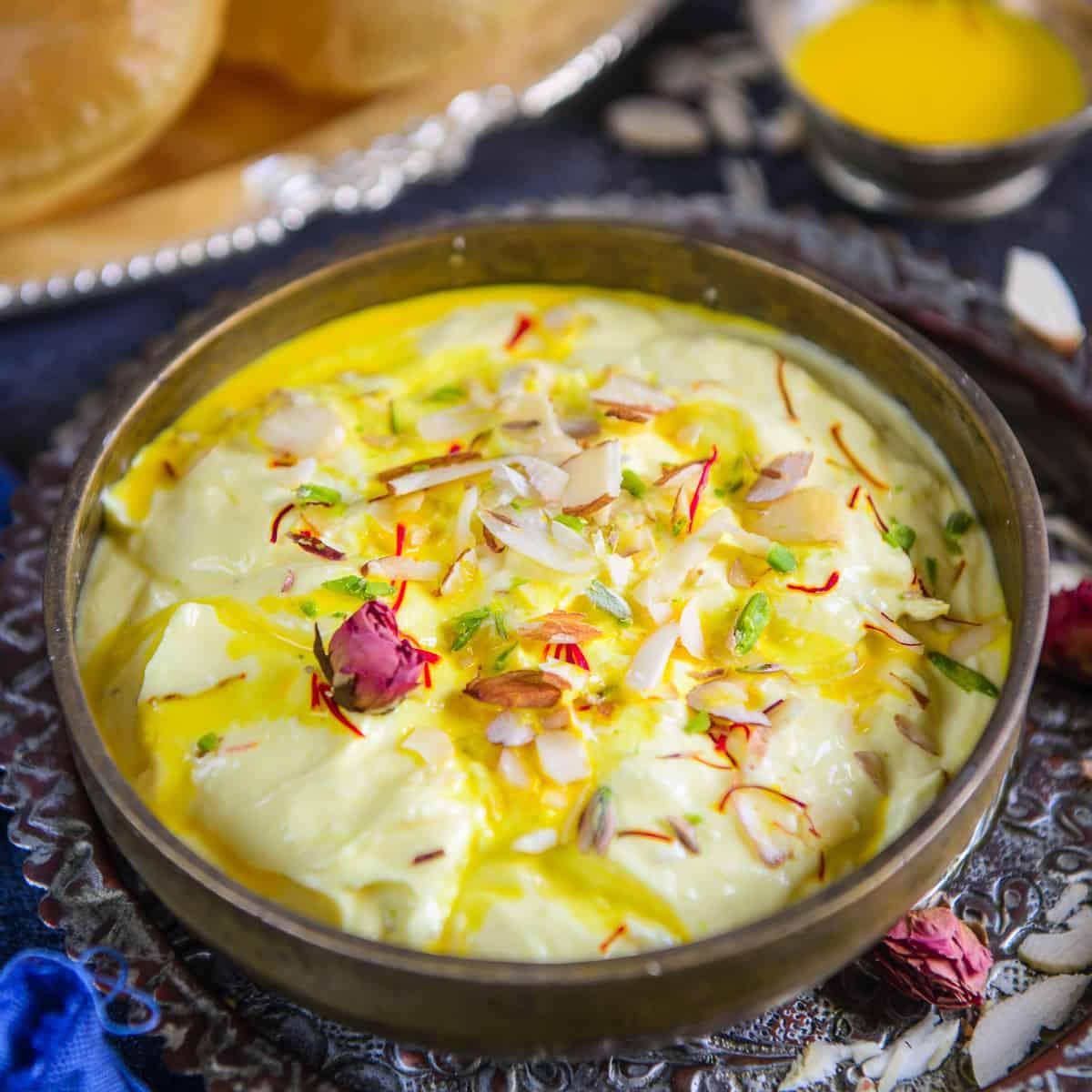 6. Puffed Rice
Puffed rice or Pori, as commonly called in the Tamil language, is one of the most popular offerings to Lord Ganesha in the state of Tamil Nadu. This dish has a mythological story, which finds mention in Ganesh Puraan as well.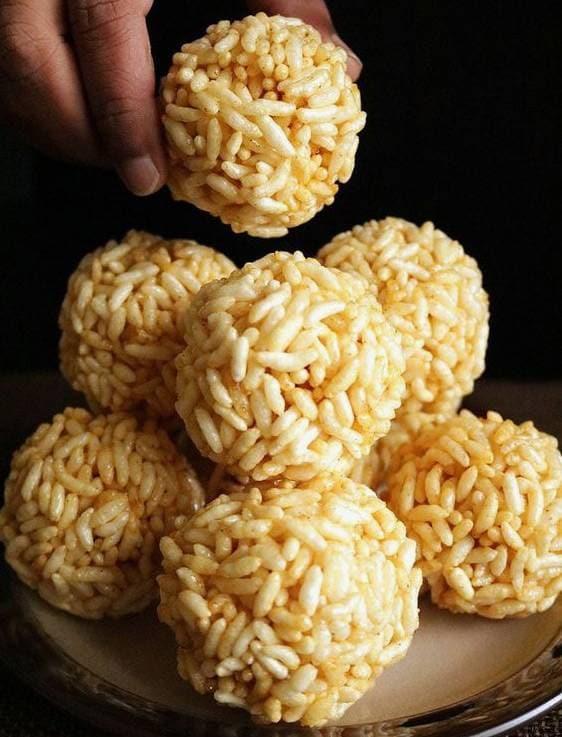 The story goes like this. "Once it so happened that Kubera, who is the god of wealth, became very proud of his wealth. One day he invited Lord Ganesha to his house for a meal. Though Lord Shiva warned him that Ganesha is a ravenous eater; but Kubera wanted to show off. So, he invited Lord Ganesh and offered him the best of the best dishes. Ganesha finished all the dishes in moments and asked for more. Now, Kubera realized his mistake and approached Lord Shiva for help. Lord Shiva told Kubera, that no one can impress gods with wealth. He suggested Kubera to offer Lord Ganesha a little amount of puffed rice, but with love and devotion. Kubera did the same and offered puffed rice to Ganesha, which satisfied his hunger. Being satiated off his hunger, Lord Ganesha blessed Kubera. Since then, it is a ritual to offer puffed rice to Ganesha on Ganesha Chaturthi to seek his blessings.
7. Payasam/Kheer: 
In India, no religious ceremony can be complete without India's most loved festive treat – kheer. And Payasam is the South Indian version of the kheer. Payasam is yet another sweet delicacy offered to Lord Ganesha, especially in southern parts of India.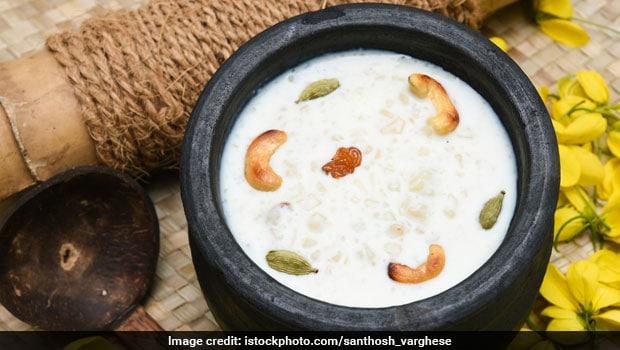 Source: https://c.ndtvimg.com/2019-04/et3drsq8_payasam_625x300_24_April_19.jpg
To make payasam, Rice is cooked in milk. Jaggery, coconut, cardamom is added to provide sweetness and a unique flavor to the dish.  Some people even try Payasam with variations like Pineapple Payasam, Carrot Payasam, among others.
8. Sheera:
One more popular offering made to Lord Ganesha, during Ganesh Chaturthi is the 'sheera'.  It is a simple and easy-to-make sweet delicacy made from semolina, sugar, ghee which is prepared very commonly among Marathi families. Dry fruits like cashew nuts and raisins are used for garnishing and to add taste.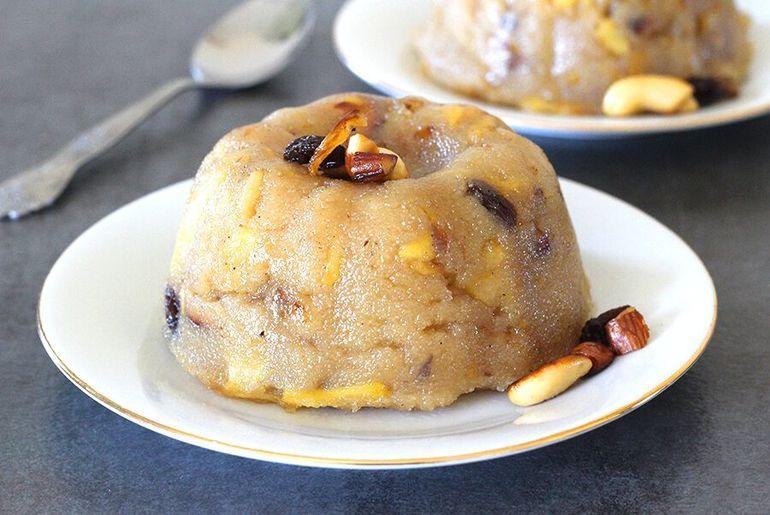 Similar in taste to 'sooji ka halwa', Sheera usually comes in two flavours – banana and pineapple. While the Banana flavour uses mashed bananas, the pineapple flavour has mashed pineapples.
9. Medu Vada:
Medu Vada is a very popular and traditional delicacy prepared in almost every South Indian family to celebrate the occasion of Ganesh Chaturthi. On this auspicious occasion, the devotees offer Medu Vada, as a part of bhog (offering) to Lord Ganesha.
Medu vada is prepared from urad dal and contains, onions, pepper, and salt.
10. Bananas
While there are many sweet dishes that are very close to Lord Ganesha's heart, but when it comes to fruits, a banana is a natural choice. Being elephant-headed, Lord Ganesha's love for bananas comes across as no surprise. In many places, it is a mandatory custom to offer Lord Ganesha a garland made of bananas, and banana leaves. The stalls are also decorated using banana trunks. These bananas are later distributed to devotees as the Prasad of Lord Ganesha.
No Indian festival is complete without sweets. And for someone like Lord Ganesha, who is very fond of eating, especially sweets like modak, Ganesh Chaturthi is one festival, where people try different dishes on different days and offer them to Lord Ganesha. In addition to these dishes mentioned above, there are some more food items which are made on the occasion, and which are popular in different parts of the country. Some of these food items are Barfi, Thalipeeth, Karanji, Aluwadi, Rishi Bhaji, among others.
Related Post: