Rice Rangoli Design
Rangoli designs with rice is an interesting yet different way to showcase rangolis instead of chalk. Rangoli is an Indian traditional form of art, where a symbolic design or pattern is created on a floor, either inside or outside, using chalk. The design of the pattern is then filled with different kinds of coloured materials, which give it an overall pleasant look. 
History of Rangoli:
Rangolis have been made since the time of primitive man, who used to live in the caves. Since then human beings had a faith in the cosmic energy of the natural elements and their effect on life. So, they used to create geometrical patterns to ward off negative energies and attract positive energy.
Rangoli designs find a mention during the Vedic age also. The stories of Lord Rama and Lord Krishna have instances where a rangoli was made to welcome them. Post the Vedic era, the rangoli is believed to have been invented during the age of Aryans about 5,000 years ago. While the earlier rangoli designs mainly consisted of drawing the basic elements of nature, the modern rangoli designs depict more contemporary subjects like current happenings, achievements, or any other themes that can be conveyed using rangoli. Modern rangoli designs are made using many support items such as stencils, tubes for filling the colour, etc. This is a good idea to modernize the art form and keep the tradition alive.
These days' people make a rangoli to celebrate all happy occasions like marriages and during various festivals like Diwali, Onam, Pongal, Sankranti among others. These days, people make a rangoli in offices also, when they are expecting a big guest, and they want to give a traditional welcome.
What is the importance of Rangoli during Diwali?
Rangoli is an essential part of Diwali. Every year, people try to innovate and make a rangoli, which is better than the last year. An appealing rangoli helps to impress the guests, especially goddess Lakshmi, who is welcomed that day with folded hands. It is believed that rangoli drives away the negativity and brings positivity, good luck, and prosperity to the house. So, a new rangoli design is made on all 5 days of the Diwali festival. These designs are passed from mother to daughter, which keeps the art form and tradition alive. To get a rangoli design idea, many books are available in the market, and then there is Google, of course. This blog also has some rangoli design ideas.
The spiritual significance of Rangoli
Rangolis is not just any drawing. It is a pattern that has the ability to evoke spiritual experiences. Behind each shape, there is a reason and meaning. Some of them are listed below:
The lines forms, usually drawn in Tamil Nadu are known to boost spirituality.

The Lotus forms drawn before the start of pujas are known for evoking energy.

The symmetrical or square-shaped designs are known to provide bliss.

Circular designs attract positivity 

Flowers symbolizes purity. That is why flower rangoli is made in temples and on auspicious occasions.
Can rice be used for rangoli designs?
Traditionally coloured limestone powder was used for adding colours to the rangoli. However, people use different materials like abeer, grounded rice powder, rice grains, pulses, flowers, diyas, mirrors, or even special powdered colours.
But if you want to be one level up on creativity, you may create rangoli designs from rice. You may use rice both in powdered form (rice flour) and in the form of rice grains. Both combine together to create a rangoli design, which is very appealing to the eyes.
Making Rangoli Design from rice:
Making a rangoli from rice, not only looks beautiful but there is deep thought behind it. When rangoli is made by using rice flour or rice grains, it serves as food for insects and birds. Thus, there lies a message that we, as human beings should take care of other living creatures on this Earth.
How do you make rangoli with rice flour?
For making rangoli with rice, you may take rice flour and turmeric powder in equal quantities. This will give a nice yellow colour. For other colours, you may use other food colours. Put the rice flour or rice grains in a container, and add the colour. Close the container, and shake it well. This way the rice flour (grains) will get the desired colour. Now, you may use these coloured flour or grains to make rangoli as per your design.
Best Rice Rangoli Designs:
So, you plan to go traditional and make a rangoli this Diwali using rice. Well, here are some unique and beautiful designs that you can draw and impress Maa Laxmi and even your friends, relatives, and neighbors.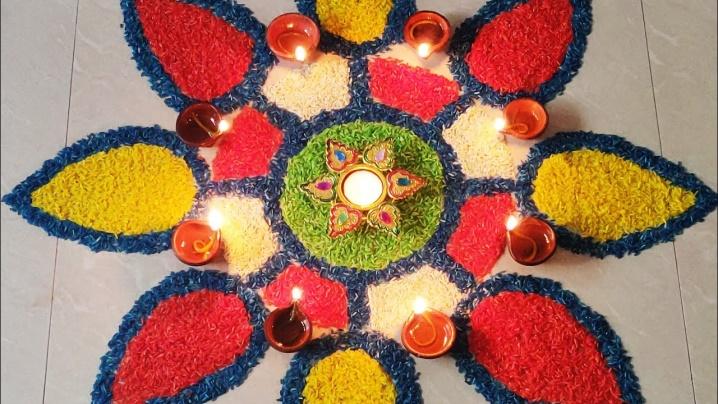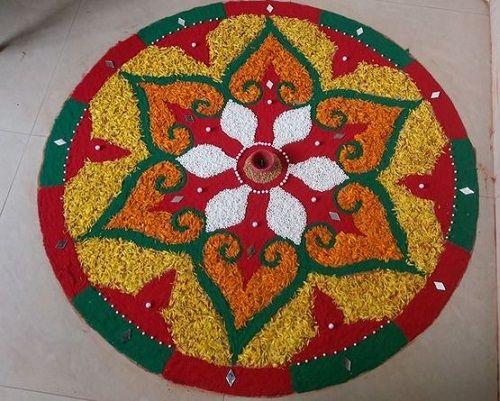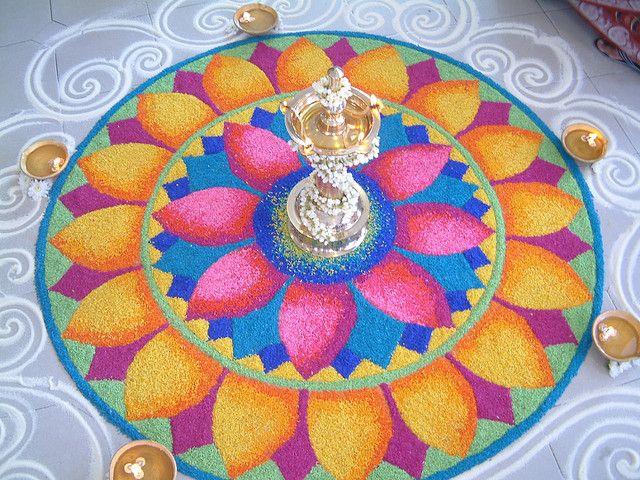 Source:https://i.pinimg.com/originals/80/44/82/804482744030d6c9933b908d79c49214.jpg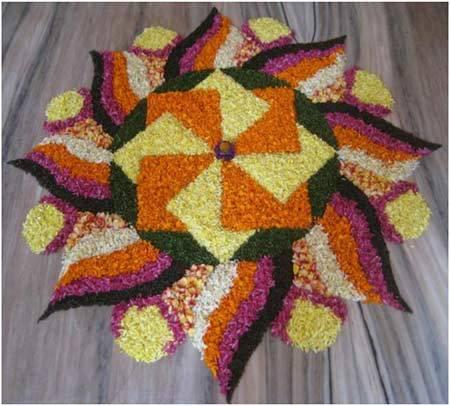 Source: https://stylesatlife.com/wp-content/uploads/2016/04/Rangoli-with-rice-3.jpg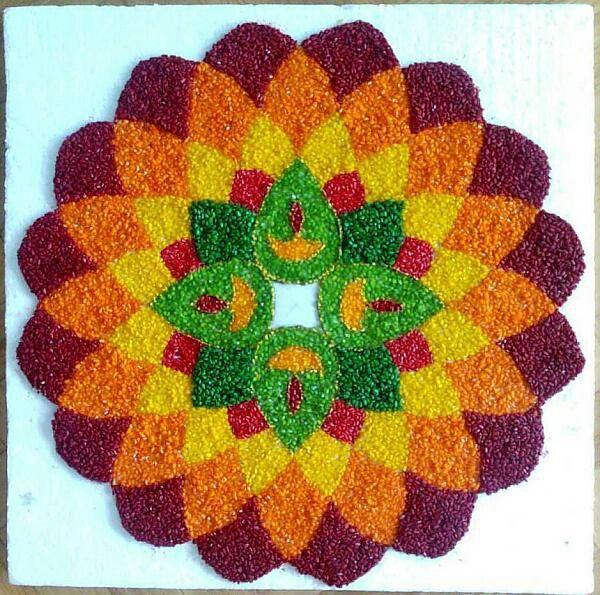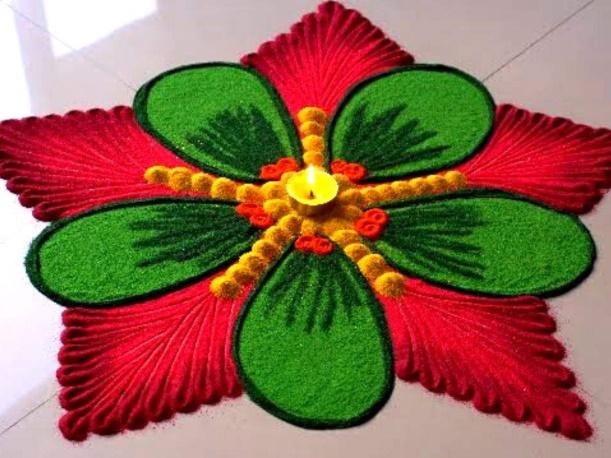 Source: https://static.toiimg.com/photo/71739915.cms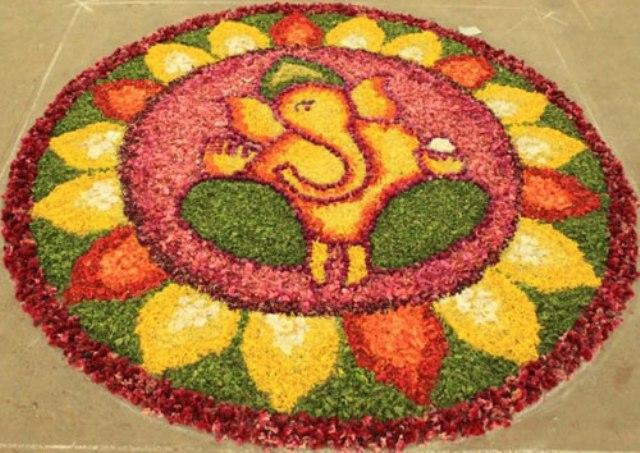 Source:http://www.managementparadise.com/dev/uploads_user/389000/388161/image/10-26 2015/Latest%20Rangoli%20Designs/Latest%20Rice%20Rangoli/Latest%20Rice%20Rangoli%20Designs_03.jpg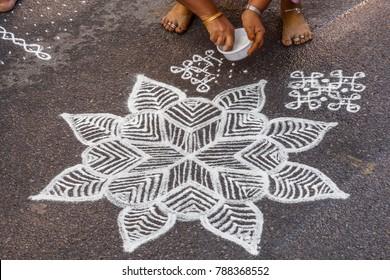 Source: https://image.shutterstock.com/image-photo/indian-woman-seen-drawing-kolam-260nw-788368552.jpg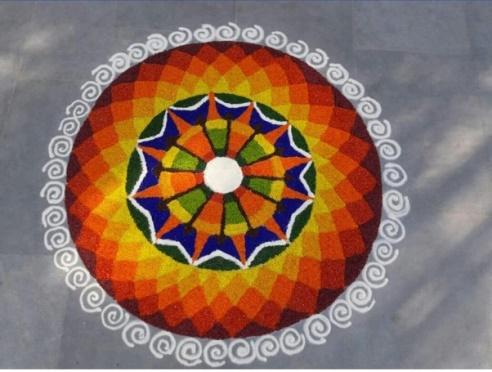 Source: https://qph.fs.quoracdn.net/main-qimg-333d3bf2df19b1573efec560cd529a98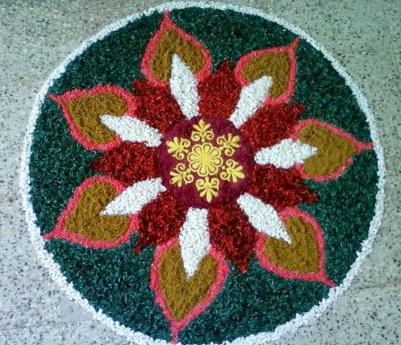 Source: http://homemakeover.in/wp-content/uploads/$wblob/1186/New-Rangoli-Design-28.jpg
---
FAQs:
Q.1: In which country the art of rangoli originated?
Ans: The art of rangoli originated in India.
Q. 2: Where is rangoli usually drawn?
Ans: Rangoli is drawn upon the ground or floor, near the entrance of the house.
Q. 3: On what occasions rangoli is made?
Ans: Rangoli is mainly drawn during Diwali. However, now it is made during all festivals, and even during marriages and to welcome important guests in offices.
Q. 4: When was rangoli art invented?
Ans: The rangoli art is believed to be invented during the period of Aryans, about 5,000 years ago.
Q. 5: What is the message behind making rice rangoli design ?
Ans: When rangoli is made by using rice, it serves as food for insects and birds. Thus, there lies a message that we, as human beings should take care of other living creatures on this Earth.
Related Post:
Diwali 2021 in India- Date, History, Significance
Lakshmi Pooja 2021 – date, history, significance, how it is conducted
20 Diwali decoration ideas for Home & office
20 Best Diwali Wishes to share with love ones with images
30 English Diwali Wishes, Quotes and Images
Happy Diwali 2021 – Wishes, Quotes & Images to share
20 Best Diwali Rangoli designs to adorn your home
Diwali 2021: मां लक्ष्मी की आरती के साथ करें दिवाली की पूजा