The best time to visit the Gangotri temple is from April to June. September and October are also good months. Avoid months of July and August, which are the monsoon months, when there is heavy rains and instance of rock falling. During winters, the doors of the temples are closed for the devotees.
Gangotri in Summers
Summers in Gangotri are pleasant, and winters are bitterly cold, with rains in May and June. The Gangotri temple's gates open at the start of summer. The weather is good, with maximum temperatures around 25°C, though it can get rather cold at night. This is the greatest time to go on a pilgrimage or go sightseeing.
Gangotri in Monsoons
Monsoon season at Gangotri begins in late July and lasts until August, making it impossible to approach the temple owing to landslides. It is recommended that pilgrims avoid travelling during the monsoon season.
Gangotri in Winters
The winter season lasts from November to April, with bitterly cold temperatures and considerable snowfall. During this time, the Gangotri temple is closed. Only professional trekkers and mountaineers are allowed.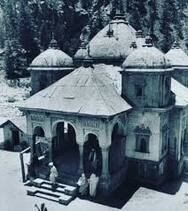 | | |
| --- | --- |
| Gangotri in May | The Gangotri temple is now open, and snow is beginning to fall. It is suitable for pilgrimages to the Char Dham and sightseeing near Gangotri. |
| Gangotri in June | June is one the best month to visit Gangotri and Gaumukh. |
| Gangotri in July | The weather in July is warm and sunny for the majority of the day, although heavy rains can trigger landslides. |
| Gangotri in August | The weather is nice in August, but there may be some rain, which can hamper your journey. The area is prone to landslides, thus the tour can be avoided. |
| Gangotri in September | During September, the temperature begins to drop. The days are lovely, while the evenings are cool. Ideal for both pilgrimage and sightseeing. |
| Gangotri in October | The weather is rather cold, with frigid nights; the best season to visit Gangotri Dham is October. |
| Gangotri in November, December, January, Febraury, March, April | The Gangotri area is bitterly cold during this time, with significant snowfall. It's bitterly cold outside, and frost bites are prevalent. During this time, the Gangotri temple is closed. |
Events/Festivals in Gangotri
On auspicious days such as Janamshtami, Vijaydashmi, and Diwali, special pooja is performed. Akha Teej is another name for Akshaya Tritiya. On the third Tithi, it is a Hindu and Jain holy day (Lunar day). Lord Parasurama, Lord Vishnu's sixth avatar, is said to have been born on this day. This day is commemorated in Gangotri with great joy and wealth.
Accommodation in Gangotri
Gangotri is one of Uttaranchal's most well-known pilgrimage destinations. Travelers can take advantage of a variety of benefits associated with staying in Gangotri. The hotels in Gangotri are all charming and delightful. You can stay in any of the hotels because they are divided into different categories such as budget-friendly hotels, luxurious hotels, low-budget hotels, and so on. Every year, a large number of tourists visit this location because it is one of the best and most well-known tourist destinations. The majority of the hotels are conveniently located in the city centre.