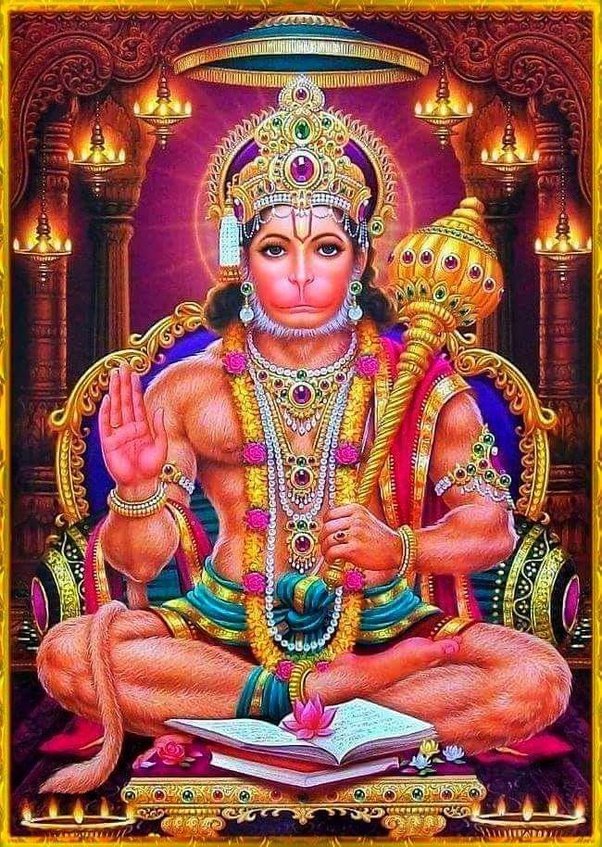 Hanuman, also known as Maruti, Bajrang Bali, and many other names is a very important and revered deity for Hindus. Born as a vaanar (monkey), he is very learned and has great knowledge and great strength of both body and mind. He has the ability to increase or decrease his size, as per his wish, he can fly to any distance and had a body as strong as 'vajra'. He is both very clever and intelligent. And using these skills, he can solve the biggest of the problems of his devotees. That is why people call him, 'sankat mochak' (remover of troubles).
The birthday of Hanuman is celebrated as 'Hanuman Janmotsav' and not Hanuman Jayanti. The word 'Jayanti' is associated with people who are dead, but since Hanuman is still alive, using the word Jayanti is not appropriate. It should be called Hanuman Janmotsav.

Hanuman Ji
| | |
| --- | --- |
| Significance of Hanuman Janmotsav: | Birthday of Lord Hanuman |
| Day / Date in 2021: | Tuesday, 27 April |
| Favourite Day : | Tuesday |
| A devotee of : | Lord Rama |
Story of Hanuman:
Birth of Hanuman:
Hanuman was born as a 'vaanar' (monkey) to Kesari and Anjana, who are his biological parents. Pavan dev, also called Vayu is believed to be his divine father; hence he is called as 'pavan-putra'
Legends Associated With his Birth:
The story of the birth of Hanuman started a long time ago. His mother, Anjana was actually a nymph (apsara), named Puñjikastalā.  As Puñjikastalā, she has once angered a sage, who cursed her to be born as a monkey. When she asked for pardon, the sage said she would regain her form after she bears a son who would bring her glory. So, she took birth as a monkey named Anjana and married Kesari, a vaanar chief and son of Brahaspati.
King Dashrath of Ayodhya was performing 'Putrakameshti yagna' with a desire to have children. Out of the holy fire, Agni dev appeared and offered sacred pudding (payasam) to be shared by his three wives. Inspired by a divine ordinance, a kite snatched a portion of that pudding and dropped it while flying over the forest. That is where; Anjana was worshipping Vayu. The pudding fell on the outstretched hands of Anjana, who consumed it. It was in this way, Vayu transferred his male energy into the womb of Anjana. The result was Maruti (later called Hanuman), born with divine powers.
Hanuman as a child:
The story of Hanuman say since childhood, Maruti was very naughty. He possessed great strength and had the ability to fly as well. One day, he was feeling hungry. He saw the rising sun, and mistaking it to be a sweet fruit, he leapt towards the sun. The Sun god approached Indra dev for help. Indra dev tried to stop Maruti, but when he did not listen, he threw his 'vajra' (thunderbolt) at Maruti, which hit him at his jaw. Maruti fell on the earth, dead, and with a broken jaw.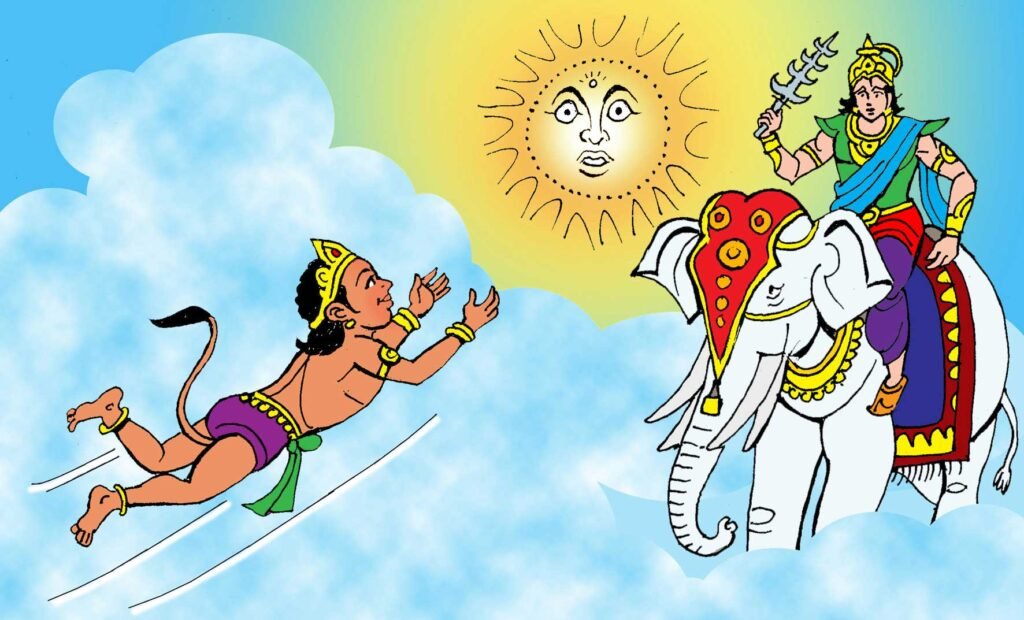 Source: https://kathakids.com/static/story-images/2019/07/hanuman_kk.jpg
When his divine father, Pavan dev, came to know about this, he was enraged. He withdrew all the winds from the universe. This caused a huge commotion as living beings were not able to breathe. Realising the sensitivity of the situation, Lord Shiva intervened and gave life back to Maruti. Only then, Pavan dev released the wind for everyone. Since it was a mistake by Indra, he gave a boon that his body would become as strong as his 'vajra', and even his 'vajra' would not be able to harm him. Other gods also gave him boons. Lord Brahma gave him a boon that he will be able to move anywhere, any time and no one will be able to stop him. Lord Vishnu gave him a divine gadaa (mason). Since, because of the 'vajra', he had a disfigured jaw, he got the name 'Hanuman', which literally means 'disfigured jaw', the name which became the most famous name.
Despite this incident, Hanuman did not mend his ways and continued his naughty tricks. He used to pull huge trees and throw them at the saints doing meditation. Once, it so happened, that he threw a tree at Matan muni. He got enraged at Hanuman and cursed him. Since Matan muni knew the future, that's why he controlled his curse. He said Hanuman will forget all his powers but would get them back when someone would remind him of his powers.
Read about the Hanuman Chalisa and its Significance here!
Role of Hanuman's in life of Lord Rama:
The story of Hanuman majorly coincides with his encouter with Lord Ram. When Lord Rama was serving an exile of 14 years, the king of Lanka, Raavan kidnapped his wife Sita. While searching for Sita, Lord Rama met Hanuman, who introduced Rama to Sugreev, the king of monkeys. Sugreev ordered his army to find whereabouts of Sita. It was Hanuman, who leapt across the huge ocean to reach Lanka and meet Sita, who was kept in captivity at Ashok Vatika. When Raavan tried to harm him, he escaped and burnt the whole Lanka, with no harm to Ashok Vatika.
                  Then supported by 'vaanar-sena' (army of monkeys), Lord Rama first created a bridge across the ocean to reach Lanka. This bridge is called 'Ram Setu'. Images taken by NASA show a bridge like structure under the ocean connecting India to Sri Lanka. This adds lot of weight to the theory that the story of Lord Rama is indeed a reality and not a fiction.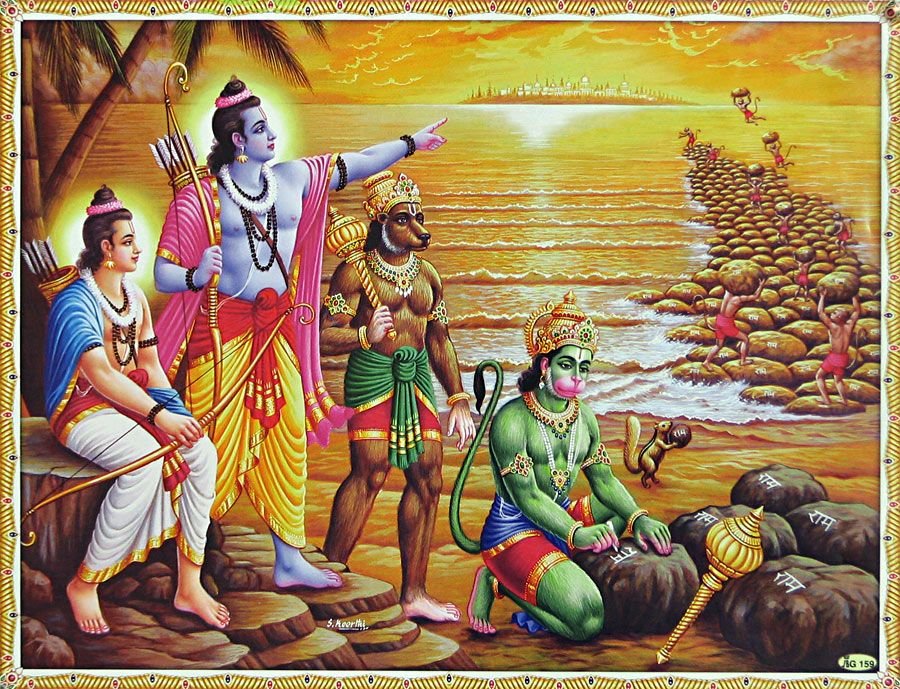 Source: https://cdn.dollsofindia.com/images/p/hanuman-pictures/hanuman-and-vanar-sena-build-bridge-of-rocks-across-CH45_l.jpg
Once the army reached Lanka, a fierce was started between the two armies. Hanuman played a key role in war as well. Once Lakshman was fatally injured by Meghnad (Raavan's son) and only a 'Sanjeevani booti' (a divine herb) could save him. But the challenge was the herb was available only at Himalayas, and it was required before the sunrise next day. Again, it was Hanuman, who flew from Lanka to Himalayas and returned carrying the whole Dronagiri Mountain with him, as he was not able to distinguish, which was the right herb. Hanuman got the herb in time, and Lakshman was saved.
Source: https://m.media-amazon.com/images/I/71lTBZqMR0L._AC_.jpg
Once, Raavan fired "Naag Paash" on Ram and Lakshman, which tied their bodies and started spreading poison. Once again, it was Hanuman, who flew to heavens and got Pakshiraj Garud (the king of birds), who freed both of them and saved their lives.
Finally, Lord Rama was able to defeat Raavan and get his wife back. This way Hanuman played a key role in finding Sita and finally killing of Raavan. The story of Hanuman says that it is believed to be the biggest devotee of Lord Rama, and is always ready to serve him.
Source: https://www.ruchiskitchen.com/wp-content/uploads/2014/03/hanumanji1.jpg
Hanuman Janmotsav:
When Lord Rama decided to leave this physical world, even Hanuman wanted to follow him. But Lord Rama, asked him to stay on earth and spread his name and help people in difficulties. Since then, it is believed that Hanuman is still alive. He is one of the 7 "Chiranjeev" as per the Hindu texts. That is why his birthday is celebrated as 'Hanuman Janmotsav' and not Hanuman Jayanti.
When is it celebrated?
Hanuman Janmotsav is a Hindu festival, which marks the birth of Sri Hanuman, which is celebrated not only in India, but also in Nepal. The festival falls on the Purnima (full moon day) of the Chaitra month as per the Hindu calendar. It terms of the Gregorian calendar, it falls in the month of April.
The day, hanuman was born was a Tuesday. This is the reason; Tuesday is the most special day to worship Lord Hanuman. 
In the year 2021, Hanuman Janmotsav will be celebrated on Tuesday, 27 April. The Purnima tithi begins at 12:44 pm on Apr 26, 2021 and ends at 09:01 am on Apr 27, 2021.
How is  Janmotsav celebrated?
On Hanuman Janmotsav, the devotees visit Hanuman temple and offer special prayers. They sit in front of Hanuman's idol and chant Hanuman Chalisa and other bhajans in praise of Hanuman. They offer rose flower and garlands to Lord Hanuman and light a diya with ghee or mustard oil in front of Hanuman. As his blessing, they take the orange sindoor (vermillion) from Hanuman's idol apply and apply tilak on their forehead.
In several temples, a special hawan is conducted to celebrate his birthday. After the hawan and pooja, a langar (community feast) is organized, where the devotees get food as prasad of Hanuman.
Significance of Hanuman Janmotsav:
Hanuman had decided to life a life of celibacy since childhood. He is known to be a 'Bal Bramhachari' and he never married. So, this festival has lot of significance to Brahmacharis, wrestlers, and bodybuilders. On this day, the devotees worship Lord Hanuman as a divine creature. People avoid taking liquor and consuming non-veg food on this day and even an all Tuesdays.
Interesting anecdotes about Hanuman:
After Lord Rama became the king of Ayodhya, precious gifts were given to everyone. Sita gave one beautiful necklace to Hanuman as well, who carefully examined each and early pearl, pulled them and threw them away. Everyone was surprised by his behavior. When asked why he was throwing precious pearls away. Hanuman replied that he couldn't find Rama in any one of pearls. Hence, they carry no value to him. When asked if Lord Rama was present in Hanuman himself? It is believed that he tore open his chest and revealed his heart. The on-lookers were surprised to see an image of both Rama and Sita in his heart. This was his level of devotion.
The second anecdote is related to sindoor being applied all over his body. One day Sita was applying sindoor (vermillion) on her forehead. Hanuman, asked her, why do you apply sindoor on your forehead daily? To which Sita replied that the energy of sindoor protects my swami, my husband.
Hanuman was impressed by this philosophy. So, he took a lot of sindoor ad applied all over his body. When Lord Rama asked him the reason for this, he replied very innocently, when a little sindoor shows devotion towards one's lord, I am completely devoted to you. Hence, I applied it all over my body. Lord Rama was very impressed by his innocence and devotion. He blessed Hanuman that he would be offered vermilion whenever he's being worshiped. And this is why, all his idols are applied sindoor daily.
Source: https://i.redd.it/ux903jdrqry61.jpg
Final words:
Hanuman is the most ardent follower of Lord Rama, and is the only living god. It is believed that whenever, there is Ram Katha happening anywhere on earth, Hanuman is present there to listen to it.
FAQs:
Q. 1: Who are the biological parents of Hanuman?
Ans: Vaanar chief Kesari, and his wife Anjana.
Q. 2: What is the meaning of Hanuman?
Ans: Hanuman means, 'the one with a disfigured jaw'.
Q. 3: Which is the favourite day of Hanuman?
Ans: Tuesday
Q. 4: Who had given a curse to Hanuman to forge his powers?
Ans: Matan Muni
Q. 5: Is Hanuman Jayanti the right way to describe Hanuman's birthday?
Ans: No. he word Jayanti is used to describe the birthday of people who are dead now. Bit, Hanuman Ji is still believed to be alive. Hence, the right way to describe his birthday is as Hanuman Janmotsav.

Must Read:
Hanuman Chalisa: The Significance and Benefits of Chanting Everyday
Hanuman Chalisa Lyrics and Meaning
Hanuman Chalisa (Hindi and English)
Hanuman Images: 20 Hanuman Photos to Share
Download Hanuman Chalisa PDF in Hindi & Recite It Daily
Shri Hanuman Ji Ki Aarti
Shri Hanuman Ji Ki Aarti English Lyrics