Background:
The Somnath Temple  is one of the most famous of Lord Shiva and is where you can find one of the 12 jyotirlings. According to Hindu mythology, there are 3 main gods – namely Brahma, Vishnu, and Shiva. While Lord Bramha is believed to be the one, who has created this universe, Lord Vishnu is believed to be the one responsible for running it, and Lord Shiva is believed to be the destroyer of the universe. Together, these three gods are called 'Tridev' (3 gods).
Worshipping Lord Shiva:
Each of these gods is worshipped in different manners. Due to a curse given by Lord Shiva, Lord Bramha is not worshipped. There is only one temple of Lord Bramha in the world, and that is in the city of Pushkar (Rajasthan). Lord Vishnu is believed to have taken several incarnations, and he is worshipped in all these forms. But, Lord Shiva is mainly worshipped in the form of a 'Shivling'. The shivling is actually an abstract representation of Lord Shiva. The word shivling is actually made up of two words, shiv + linga. The word 'shiv' refers to Lord Shiva and 'linga' or 'lingam' means 'sign, symbol, or mark'. So, the literal meaning of Shivling is 'Symbol of Shiva'.
What are Jyotirlings?
Shivlings can be made by human beings; however, there are certain places, where Lord Shiva appeared on his own, in the form of light.  This form of Lord Shiva in the form of a great light column is called a 'Jyotirling', where the word "jyoti' means light and 'linga' means symbol. So, Jyotirling means 'symbol of light. 
Jyotirlings in India:
There are in all 12 Jyotirlings in India. These 12 places are – Kedarnath Temple (Uttarakhand), Kashi Vishwanath (Uttar Pradesh), Somnath and Nageshwar (Both in Gujarat), Onkareshwar, Mahakaleshwar (both in Madhya Pradesh), Baidyanath (Jharkhand), Trimbakeshwar, Bhimashankar, Ghrishneshwar (All Maharashtra), Rameshwaram (Tamil Nadu), and Mallikarjuna (Andhra Pradesh).
Somnath Temple:
The Somnath Temple (also known as the Deo Patan) at Veraval, is located on the western coast of Gujarat. This is the most important Jyotirling, as it is the first among 12 Jyotirlings; hence it is called 'Aadi-Jyotirling'. The temple is located on the triveni sangam of 3 rivers – Kapila, Hiran, the mythological river, Saraswati). As a reason, this is an important pilgrimage site for Hindus all over India.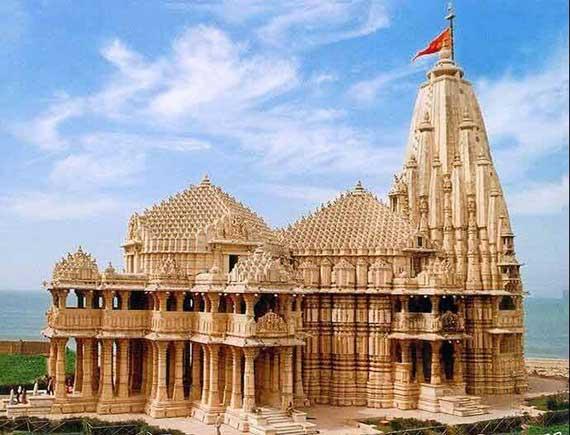 Source:https://pravase.co.in/admin_pravase/uploads/yatradham/Sonath%20Temple_1558702865.JPG
The legend behind Somnath Temple:
The word Somnath is derived from two words Som + Nath, where the word 'Som' means 'the moon', and the word 'Nath', means 'King or Lord'. Hence the word Somnath means, Lord of the moon, Shiva. This is because this temple was first built by Som, (Lord Moon, also called Chandradev).
The legend goes like this. Chandradev (Lord Moon) had married 27 stars, who all were daughters of Daksh Prajapati, the son of Lord Bramha. Though all daughters were good, Chandradev gave extra attention to one of them, Rohini. This made his sisters jealous of her. They complained to their father, who warned Chandradev about it. Despite the warning, Chandradev did not change. This angered Daksh and he cursed Chandradev that he would lose his kala (art) every day, till he becomes invisible. Chandradev went to Lord Bramha for help, who suggested Chandradev to visit Prabhas Teerth, take a bath in the holy triveni sangam and worship Lord Shiva. It is believed that
Chandradev took a bath at this spot and meditated for Lord Shiva, who appeared in front of Chandradev. Lord Shiva told him that the curse cannot be retracted, however, the effect of the curse can be reduced to half. Lord Shiva told Chandradev that he would lose his luster only for 15 days of the month. For the remaining 15 days, he would grow into full size. Lord Shiva then gave places to Chandradev on his head to increase his glory. This is how waning (reducing phase, called krishna paksh) and waxing (increasing phase, called shukla paksh) came into existence. The night of a totally diminished moon is called Amavasya, and the night of a full-sized moon is called Purnima.
Chandradev accepted it and was filled with so much gratitude that he built a temple in honour of Lord Shiva, which went on to be called Somnath.
History of Somnath Temple
As per the Purans, Chandradev built this temple in gold, and handed over the duty of worshipping Lord Shiva to the Sompura Brahmins, who he had crafted especially to worship Lord Shiva and perform religious rituals in the temple.
Since then, this temple has been reconstructed several times. In 'Satyug', Chandradev built the temple in gold, which was built again by Raavan, the king of Lanka in 'Treta yug', this time in silver. After this, Lord Krishna re-built the temple in 'Dwapar yug', this time in sandalwood.
The glory and riches of the temple were so much that it caught the attention of many kings who attacked the temple and demolished it. This included the old ruler of Sindh and Mughal Emperor, Aurangzeb. However, the most notable of these looters was Mahmud Ghazni, who attacked the Somnath temple 17 times, and every time, took away its wealth. But each time it was demolished, the devotees of Lord Shiva worked hard and restored the temple to its original glory.
In modern times, the work for the reconstruction of the temple started after India got independence in 1947. The credit for this goes to Sardar Vallabh Bhai Patel, the first home minister of India. The work for re-construction started in 1950 when the mosque present at that site was shifted a little distance away, and the existing structure existing was pulled down. The temple was ready in 1951. The 'pran-pratishtha' ceremony was performed on 11 th May 1951 by the first President of India, Dr. Rajendra Prasad.
Architecture:
The present temple was built in the Chalukya style, also known as the "Kailash Mahameru Prasad" style of temple architecture. The temple beautifully showcases the skill of the Sompura Salats, one of Gujarat's master masons of ancient temple architecture. The credit of designing the current temple goes to Prabhashankar Oghad Bhai.
The height of the temple's main shikhar (spire) is about 15 meters, and on top of that, there is a flag pole, which is about 8 meters long. The flag pole has a 'kalash' at the top.
To have a darshan of Lord Shiva at Somnath, one has to enter through a huge ornamented gateway, called 'Digvijay Dwar'. A pathway leads to the 'Garbha Gruha", where Lord Shiva resides in the form of a Jyotirlinga.
The temple has a beautifully designed Sabha Mandap (Assembly Hall), and Nrutya Mandap (Dance Hall). The temple walls and ceilings are intricate and beautiful carvings. Several exquisite artworks adorn the walls. The temple is situated on the banks of the Arabian Sea.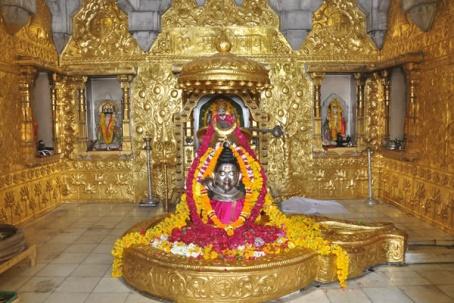 Source: https://somnath.org/Areas/Xpanel/Content/img/bc4930c5-7.jpg
Best time to visit Somnath
The temple is open round the year, and pilgrims from around the globe visit the temple and seek the blessings of Lord Shiva. But the best time to visit the Somnath temple is From October to February, when the weather is cool and quite pleasant.
A lot of people visit the temple during Shivraatri (celebrated during February or March), and Kartik Purnima (celebrated just before Diwali in October during October or November). Both these festivals are celebrated with great enthusiasm.
How to reach Somnath?
By Air: There is no airport in Somnath. The nearest airport is Diu, which is about 60 km from Somnath. You can easily get a taxi from the airport to reach Somnath.

By Train: The nearest railway station is Veraval, which is about 7 km from Somnath. You can easily get a taxi, auto, or local buses from Veraval to Somnath.

By Road: Somnath is well-connected to all major cities through a road network. The nearest cities are Porbandar (125 km), Rajkot (160 km), Jamnagar (180 km), Bhavnagar (210 km), and Surat (265 km). There are regular taxi and bus services available from these cities.
Find more information about somnath here
Pooja Vidhis performed at Somnath Temple:
The following pooja vidhis are performed at Somnath Temple. For most of the poojas, prior notice has to be given so that necessary arrangements can be made. Depending upon the Pooja to be performed, the notice varies from 1 month to 1 day.
The various Pooja vidhis performed at Somnath temple are Homatmak Atirudra, Homatmak Maharudra, Homatmak Lagurudra, Savalaksha Samput Mahamrutunjay Jaap, Savalaksha Mahamrutunjay Jaap, Silk Dhvajarohan, Maharudra Path, Dashans Hom, Kalsarpa Yog Nivaran Pooja, Shivpuraan Path, Laghurudra, Mahadugdh Abhishek, Mahapooja, Rajopachar Pooja, Markandey Pooja (Birthday Pooja), Deepmala, Rajbhog Thal, Santan Gopal Mantra Pooja, Bilva Pooja, Samput Chandi Path, Sam. Mahamrityunjay Jaap, Shodshopachar Pooja, Mahamrityunjay Jaap, Gangajal Abhishek, Rudrabhishek, Navgraha Jaap, Panchopchar Pooja, Aavartan, Swarna Kalash, and Shiv Parivar Pujan among others.
Important points at Somnath Temple:
The temple is open round the year from 7 AM to 8 PM. The aarti timings are 7 AM, 12 noon, and 7 PM

Very close to the main temple, there is another temple called 'Ahilyabai Holkar temple'. This temple was Maratha queen Ahilyabai Holkar. This temple is also an important pilgrimage because many people believe that the original Jyotirling of Somnath is inside this temple. 

In addition to this, there are many other important places to see. One notable place being 'Bhalka Teerth'. It is this place, where Lord Krishna took his last breath, after being shot by an arrow from a hunter.

There is a pillar inside the temple, called "Baan Stambh". This pillar has a very interesting inscription. According to this, inscription, the location of this temple is such that there is no land in a straight line to its south till Antarctica.

Every evening, the temple is nicely illuminated. In addition to that, there is a sound and light show, titled 'Jai Somnath', where the temple tells its own story. Amitabh Bachchan has lent his voice for this show. 

Watching the sunset at Somnath is an amazing experience.

Being a sacred place, it is important for the visitors to dress appropriately and modestly. Dresses like short skirts and shorts should be avoided while visiting the temple.

Carrying cameras, mobiles, and other electronic devices is not allowed inside the temple.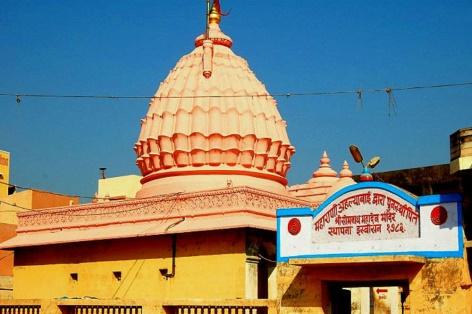 Source: https://static.toiimg.com/photo/msid-47264048,width-96,height-65.cms
---
FAQs:
Q. 1: What is the meaning of Somnath?
Ans: The words 'Som' means moon and 'Nath' means lord. Hence, the word Somnath means Lord of the moon.
Q. 2: Which is the first Jyotirling?
Ans: The Somnath Temple, located in Veraval (Gujarat) is believed to the first among the 12 Jyotirlings of Lord Shiva.
Q. 3: Who attacked and destroyed Somnath temple 17 times?
Ans: Mahmud Ghazni, who was the king of Ghazni attached Somnath temple 17 times and took away all his wealth each time.
Q. 4: Who played an important role in the construction of the current structure of Somnath Temple?
Ans: Sardar Vallabh Bhai Patel, the first home minister of independent India
Q. 5: Who performed the 'pran-pratishtha' of the idol at Somnath Temple?
Ans: The pran-pratishtha at the existing temple was done by the first President of India, Dr. Rajendra Prasad.
Get Direction On Google Map