Lord Ganesha is one god, who is loved by one and all. He has a universal appeal. There are many qualities of Lord Ganesha, which make him the first among the gods. The elephant-headed is known as 'vighna-hartaa', someone who removes obstacles from the paths of his devotees. This is why he is worshipped before starting a new work or a new venture. The Large head of Lord Ganesh symbolizes wisdom and intelligence. Ganesh Chaturthi is the biggest festival which is celebrated in Mumbai at Shree Siddhivinayak Temple. It is the most advanced temple of the time.

Shree Siddhivinayak Ganpati Temple:
| | |
| --- | --- |
| Principal deity | Shree Ganesh |
| Creator | Laxman Vithu & Deubai Patil |
| Location | Prabhadevi, Mumbai, (Maharashtra) |
This is one of the richest temples in India. This famous temple belongs to Lord Ganesha and is one of the must-see spots in Mumbai. As per Hindu Mythology, Lord Ganesha is the son of Lord Shiva (Lord of the Universe) and Maan Parvati. The main idol is made of black stone with a height of 2.5 feet and the width of 2 feet. Its trunk is tilted on the right side and it has four hands. That is why Lord Ganesha is also known as 'Chaturbhuj", (meaning 4 hands). In each of his 4 hands, he is shown carrying something, which has a great religious significance. He holds a lotus in upper right hand and a small axe in upper left. When we talk about lower hands, he is seen holding holy beads in the lower right and a bowl full of Modaks in his lower left hand.
His two wives, Riddhi and Siddhi are shown on the either side of the idol. They represent spiritual power and prosperity respectively. As per the belief, Siddhivinayak is also known as Navasacha Ganpati (Ganpati who grants wishes when asked with a pure heart). An eye is etched on his forehead, which resembles the third eye of the Lord Shiva.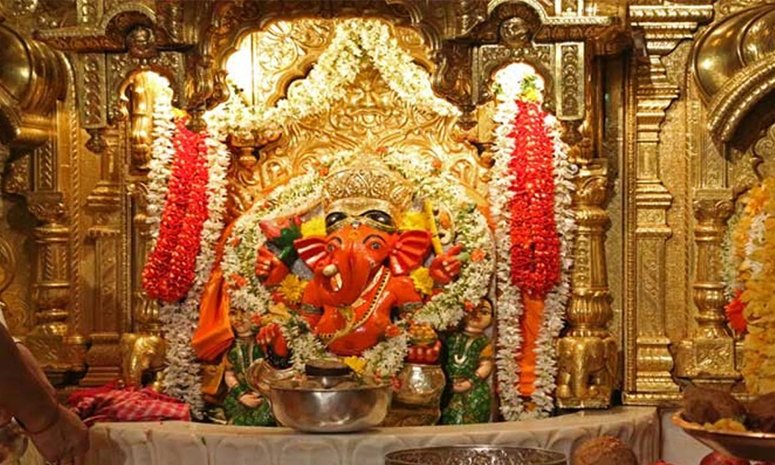 History of Siddhivinayak Temple:
The Siddhivinayak temple was built by Laxman Vithu and the temple was first opened for the public on 19 November 1801. The construction of the shrine was funded by a rich lady, Deubai Patil. Being childless herself, she understood the plight of such women. So, she built this temple with a belief that Lord Ganesha will listen to the prayers of all such ladies and bless them with children.
There is one more legend associated with this temple. Akkalkot Swami Samarth (a Hindu Guru), ordered one of his followers, Ramakrishna Jambhekar Maharaj to bury 2 divine idols in this temple, in front of the presiding deity. And, as prophesied by Swami Samarth, 21 years later, a Mandar tree grew exactly at that spot. The tree had a 'swayambhu' (self-originated) Ganesha in its branches. This tree is still there inside the temple premises.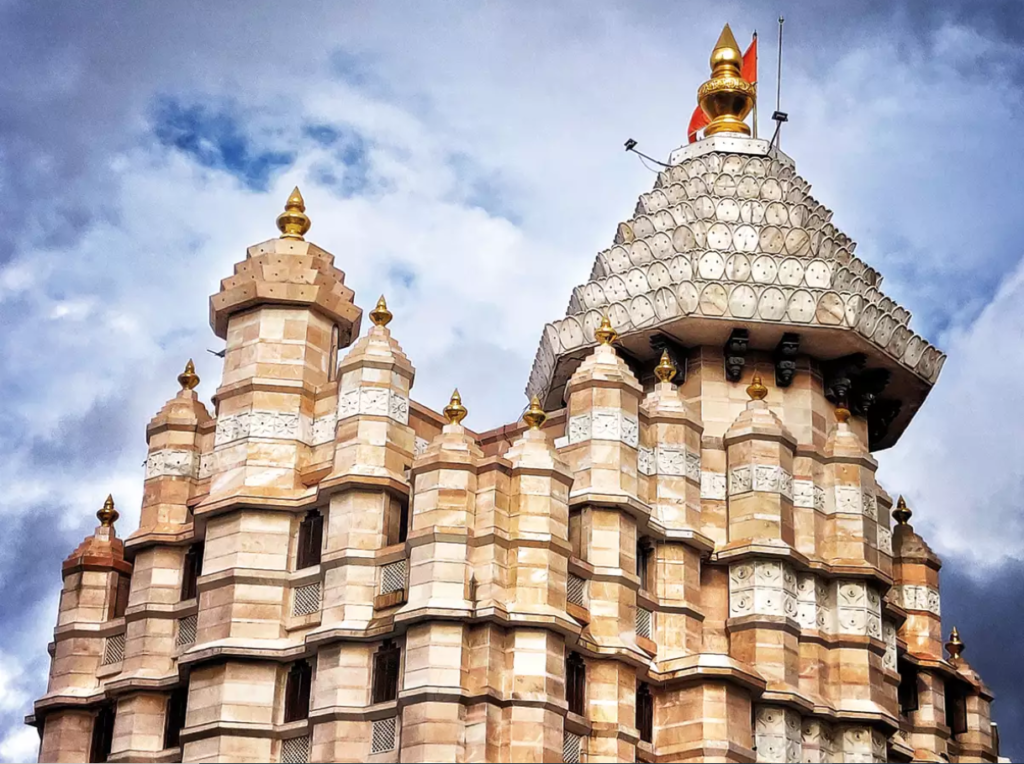 Around 1952, while a road extension project was going on at Sayani Road, Near Elphinstone Road area, a Lord Hanuman icon was found during the digging. The idol was brought to Siddhivinayak Temple and a shrine was built around that.
The architecture of the temple:
The original Siddhivinayak temple had an ancient architectural style, having a hall, a sanctum sanctorum, with some free space and a water tank in the front. A complete architectural transformation was given by an architect named Sharad Athale in 1990. Temple has a small mandap with the idol of Siddhivinayak and a carved wooden door with an image of Ashtavinayak (eight avatars:  Vakratunda, Ekadant, Mahodara, Gajanana, Lambodara, Vikata, Vighnaraja, and Dumravarna).
The inner sanctum and the central statue of Ganesh are covered with gold. The exterior of the temple is six storeyed, multi-angular, and the main central dome is gold plated. There are three entrances to the temple. With the main dome, 37 other smaller gilded domes contribute to the temple structure. Special pink marble and granite are used to reconstruct the exterior of the temple.
Significance of the Siddhivinayak temple:
•         It is the world richest temple which receives a huge amount of donation around 100 million to 150 million in a year from all over the world.
•         The unique feature of the Siddhivinayak is its trunk which is tilted on the right side and most of the Ganesha Idols have their trunk tilted towards the left.
•         Many politicians, sportsperson and Bollywood stars start their new journey with the blessings of Shree Siddhivinayak. This is one of the main reasons for its fame, from a small shrine to the richest temple.
•         There are many places nearby where people can visit places like Worli Sea face, Prabhadevi Beach, Sewri fort, Portuguese Church, etc.
•         Tuesday is the most visited day throughout the week with more than 1000 devotees.
•         Ganesh Chaturthi is the biggest festival which is celebrated in Mumbai every year.
•         With the official website and an app, people can have live darshan daily.
•         Outside the temple, there is "Phool Gali" where people can purchase garlands, coconuts and modak or laddoos from the stalls.
•         Carrying laptops or bags are not allowed inside the temple.
Main festival:
Ganesh Chaturthi is the main festival as known as Vinayak Chaturthi, which is celebrated as the birthday of the Lord Ganesha by Hindu, in the whole world. It is celebrated in the month of Bhadra (Hindu calendar) around August and September. This festival is a 10 days celebration from the installation of the Idol of Ganesh and ending on the day of 'Ananta Chaturdashi'. As per the belief, Ladoos and modak are the favourite of Lord Ganesh so this sweet is offered as a Bhog. On the 11th day, the Idol is taken through the street with dance, music to be immersed in a river with a slogan of "Ganpati Bappa Moriya, Purcha varshi lawkar aa" (O father Ganesha, come again early next year). Mumbai is the best city to experience the joy of this festival. But here are some more places in India where Ganesh Chaturthi is celebrated wholeheartedly namely- Delhi, Goa, Karnataka, Telangana, Tamil Nadu, etc. This festival is celebrated grandly at the Siddhivinayak Temple.
Best time to visit:
Entry is free in the temple. It is reported that Tuesday is the most crowded day so for a peaceful darshan choice a day accordingly. To witness all the rituals, visit on a special occasion like Ganesh Chaturthi, Sankashti Chaturthi, etc.
The temple is open round the year from 5:30 AM to 10:00 PM. The aarti timings are 6:00 AM, 7:30 PM, and 9:50 PM.
The best time to visit Mumbai is during the winters. Mumbai summers are very hot and humid. So, the best months are from October to March.
How to reach Siddhivinayak temple?
By Air: The nearest airport to Siddhivinayak temple is Chhatrapati Shivaji International Airport, Mumbai (also known as Sahar International Airport) which is just 12 km away and Domestic Airport is in Vile Parle (East) just 11 km away from the temple. Mumbai is well connected with the major cities like Chennai, Hyderabad, Kolkata, etc.
By Train: Siddhivinayak temple is just 2 km away from the Dadar Railway station, one can take cabs or a local taxi to reach the temple.
By Road: There are B.E.S.T (Brihanmumbai Electric Supply and Transport) buses which are easily available on the way to the temple. You can also get Cabs or Taxis regularly. Autos are not allowed in this part of Mumbai.
Pooja Vidhis performed at Shree Siddhivinayak Temple:
A daily routine Aarti from Wednesday to Monday – Kakad Aarti (The early morning prayer at 5:30 AM to 6:00 AM), Shree Darshan (at 6:00 AM to 12:15 PM), Naivedhya (12:15 PM to 12:30 PM), Shree Darshan (12:30 PM to evening 7:20 PM), Aarti -Evening (7:30 PM to 8:00 PM), Shree Darshan (8:00 PM to 9:50 PM), Shejaarti (The last Aarti of the day before bedtime at 9:50 PM).
On Tuesday, there is a special darshan and aarti from 3:50 AM to 4:45 AM which is considered more sacred than normal days.
Few more important days like Bhadrapad Shree Ganesh Chaturthi, Maghi Shree Ganesh Jayanti and Sankashti Chaturthi are performed with all rituals or vidhis on different timing.
On the different festival, the timing of the Aarti change accordingly and some Maha Abhishek is performed on every festival during the Maha Abhishek devotees are not permitted in the main temple.
External Links:
Shree Siddhivinayak temple has an official website, where people can have live darshan, offer aarti, donation and order for online aarti and prasad and it also has an application.  The website address is: www.siddhivinayak.org
Below some websites are given, which have some soundest information about the nearby place to visit, to stay, etc.
FAQs:
Q.1: What makes Shree Siddhivinayak idol so unique among all the idols of Ganesh?
Ans: It is observed that Lord Ganesh has a trunk tilted on the left side but the trunk of Siddhivinayak is on the right side.
Q. 2: Why did Deubai Patil construct the Shree Siddhivinayak temple?
Ans: Deubai Patil was a childless woman herself. She believed that Siddhivinayak can bless all childless women with children, so they can enjoy a complete family life.
Q. 3: Was there a lake nearby the Siddhivinayak temple?
Ans: Yes previously there was a lake built by Nardulla in the 19th century to deal with the scarcity of water but later it was refilled and converted into a playground.
Q. 4: Why Shree Siddhivinayak temple is known as the richest temple?
Ans: Shree Siddhivinayak temple is mostly visited by big politician and Hollywood star, so the donation is highest among the world that is more than 100 million to 150 million rupees in a year.
Q. 5: How can I book a Siddhivinayak darshan online?
Ans: The Siddhivinayak temple has an official website and a mobile app as well (available on both Android and iOS devices). So, you may visit either of these and book your visit online. You may also book darshan at one of the counters outside the temple. You will get a QR code on your mobile, which will allow you entry into the temple, after following the Covid protocols.
Get Direction On Google Map