Introduction:
The last century has seen the emergence of many spiritual gurus, who have enlightened the common people with their teachings. But there is hardly anyone who can match the popularity of Sai Baba of Shirdi. Due to his connection with Shirdi, he is often called Shirdi wale Sai Baba. 
Location: Shirdi
Famous for: Sai Baba of Shirdi
Shirdi Sai Baba Temple:
Shirdi Sai Baba temple is located in Shirdi, a small city in Ahmednagar District in Maharashtra, India. The city is known as the home of the 19th-century saint Shri Sai Baba. This association is so strong that people refer to Shirdi as Sainagar. Endowed with unprecedented powers, Shri Sai Baba is worshipped as God incarnate. SAI meaning Sakshaat Ishwar – 'The absolute God'
The temple is spread in an area of about 200 sqm in the heart of Shirdi village. Shri Sai baba's Samadhi Temple and all others temples on the premises are governed & administered by Shri Sai Baba Sansthan Trust, Shirdi. The trust also is devoted to the development of Shirdi village.
On average, 25,000 devotees visit Shirdi village for Darshan daily. During the festival season, this number swells to over 100,000 devotees per day. People gather in ever-increasing numbers to pay homage to the Divine and to experience the truth of Baba's promise that he would be active in answering devotees' prayers even from his tomb. Thursday is believed to be the day to worship Sadguru. So, on this day a large number of devotees visit the temple.
The history of the Shirdi Sai Baba Temple:
The story of the construction of this temple is very interesting. The temple has been built by a millionaire from Nagpur, Gopal Rao Booty, who was a great follower of Sai Baba. The initial idea was to construct a wadaa. The intention was to have a place as a restroom as well as a temple for Krishna.
As the story goes, once Gopal Rao and his friend Shaama (a fellow Sai devotee) were sleeping. Gopal Rao had a dream, where Sai Baba appeared and said, "Let there be a wadaa with a temple so that I can satisfy the desires of all."  Booty woke up and shared his dream with Shaama, who was in tears because he also had the same dream. They both were touched by this miracle. They made rough sketches and shared them with Kakasaheb Dixit. Then, they all went to Sai Baba to take his permission to construct the temple. Baba approved the project and gave his blessings to it.
The work began around 1915. Since it is built in stone, it was known as Dagadi Wada. Shaama personally supervised the construction process. While passing through the site Baba also used to give suggestions sometimes. 
The Temple premise was renovated in the year 1998-99 and is equipped with all the necessary support facilities.
The Sai Baba Statue
The statue of Sai Baba was installed on the day of Dussehra (7 October 1954), which was 36 years after Sai Baba took Maha-samadhi.
There is a very interesting story attached to the statue, which reaffirms the faith in Sai Baba. Once a shipment arrived on Mumbai docks, which contained high-quality Italian marble, but no one came to claim it. So after some time, the stone was auctioned. A buyer bought it and donated it to the temple of Sai Baba.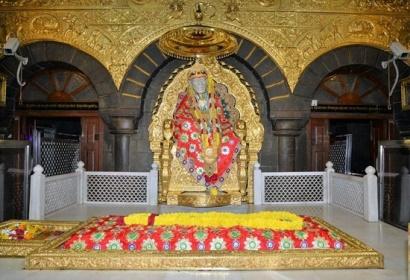 Source: https://media-cdn.tripadvisor.com/media/photo-s/12/77/ca/cb/img-20180324-wa0077-largejpg.jpg
The temple authorities hired the services of Balaji Vasant Talim a sculptor from Mumbai. It is believed that when he was struggling to carve the exact features of Sai Baba, the divine saint appeared in his dream and showed his face from different angles. This helped Talim to meticulously construct the statue of Sai Baba.
In the temple, the statue of Sai Baba is draped with royal cloth with a golden crown on his head. 
Birth, Birthplace and Origin
Devotees believe Sai Baba to be a manifestation of Sri Dattaguru, venerated as a Hindu God. Not much is known about his birthplace and his date of birth. However, as per a book, Shri Sai Satcharitra written by a disciple called Hemadpant (also known as Annasaheb Dabholkar / Govind Raghunath), his birthday falls on 28th September. And speculation is that he was born in the year 1838.
As per another book "Life of Sai Baba" Vol 1, Sai Baba told one of his staunch devotees, Mhalsthapathy, that his parents were Brahmins of Patri, in Parvani Taluk. And they handed him over to a Muslim Fakir at the tender age of five. He was always dispassionate. Under his influence, the young child also imbibed detachment from an early age. But within 4-5 years, the fakir died. Before his death, he instructed his wife to hand over the young boy to one Gopal Deshmukh, the Provincial Governor of Jintur Paragana. 
Gopal Deshmukh had a high level of spiritual awareness and was in constant touch with his 'isht-deva', and never did anything without consulting. Young Baba became his disciples and spent his formative years under his able guidance and learnt a lot. It is believed that Gopal Deshmukh transmitted his powers into him.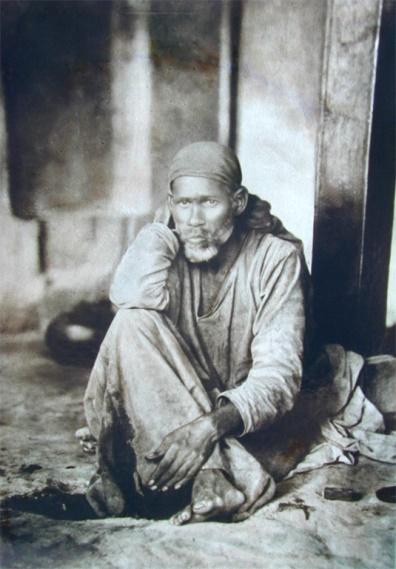 Source: https://upload.wikimedia.org/wikipedia/commons/d/df/Shirdi_Sai_Baba_3.jpg
The genesis of the name "Sai Baba"
Sai Baba's real name remains unknown. When he appeared at the Khandoba Mandir in Shirdi, he was welcomed by the temple priest, Mahalsapati and was addressed as "Aao, Sai!" ("Come Sai!"). From then on, he was known by the name Sai Baba. 
The word Sai means Sakshaat Ishwar, God. And Baba is an honorific signifying grandfather, father, old man or sir. Thus Sai Baba denotes "holy father", "saintly father".
Life in Shirdi:
Baba reportedly arrived at Shirdi when he was about 16 years old. He led an ascetic life, sitting in an asana, motionless under a Neem tree, meditating. After staying in Shirdi for 3 years, he disappeared, and then returned a year later. After that, he made Shirdi his permanent residence. He started wearing a knee-length one-piece Kafni robe and a cloth cap, articles of typical Sufi clothing. This attire made him look like a Muslim fakir and was one of the reasons for initial hostility toward him in a predominantly Hindu village. For four to five years, Baba wandered in the jungle for long periods and lived under a Neem tree. This spot is now called Gurusthan. 
He used to remain silent and under meditation for long periods. But eventually, he agreed to take up residence in an old and abandoned dilapidated mosque which later was known as Dwarka Mai. He led a solitary life, surviving by begging. In the mosque, he used to maintain a sacred fire (dhuni) from which he gave holy ash ('Udi') to his guests. It was believed, that ash had healing and apotropaic powers. He performed the function of a local doctor and often treated the sick by applying the holy ash. 
He gave spiritual teachings to his visitors, recommending the reading of Ramayana and Bhagvat Gita to Hindus and the Quran to Muslims. It is believed, that Baba tended to a garden called Lendi Baug, named after a nearby flowing riverlet Lendi.  The garden still exists and continues to be visited by pilgrims; it contains temples (samadhis) of people and animals associated with Sai Baba's life. 
Around August 1918, Shirdi Sai Baba told his ardent devotees that he would soon be "leaving his mortal body". He developed a high fever and even stopped eating towards the end of September. He asked his disciples to recite holy texts as his condition deteriorated. He continued to meet visitors till the end when he died on 15 October 1918. His mortal remains were buried at Buti Wada in Shirdi, where today we have the Shree Samadhi Mandir or Shirdi Sai Baba Temple.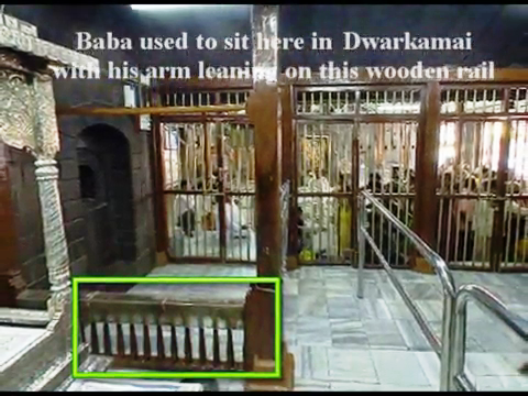 Source: http://3.bp.blogspot.com/-Gb5SeukKy9A/UQDRhmSI9bI/AAAAAAAABpE/VMXPmwhYxlY/s1600/28762_390747381002404_1061289961_n.png
The aarti rituals:
The temple follows the same rituals and traditions, which were followed when Baba was alive. Even today, daily 4 Aartis are held as per the time of the day.
Kakad Aarti (The Morning Aarti) at 4:30 am

Madhyan Aarti (The Afternoon Aarti) at 12:00 noon

Dhoop Aarti (The Evening Aarti)  at 6:30 pm

Shej Aarti (The Night Aarti) at 10:30 pm
Every Thursday, Sai Baba is symbolically taken in a palki procession from Samadhi Mandir to Dwarka Mai, onward to Chavdi and back to the Sai Baba Mandir.
Teachings and Practices
Nobody clearly knows whether Sai Baba a Muslim or a Hindu. But it never mattered to him. Sai Baba believed in all religions. He not only opposed religious orthodoxy but also persecution based on religion or caste. However, he encouraged both Muslims and Hindus to study their holy scriptures i.e. Quran, Ramayana, Bhagavad Gita and Yoga Vasistha respectively. 
His teachings drew from rituals of both Hinduism and Islam. While he lived in an old dilapidated mosque, he gave it a Hindu name Dwarka Mai. He celebrated both Hindu & Muslim festivals. His oft-repeated sentences were 'Allah Maalik' (God is King) and 'Sabka Maalik Ek' (Everyone's Master is One). These sentences show association with both Hinduism and Islam. He always used to say "Look to me, and I shall look to you" and 'Allah tera bhala karega'.
He wanted his followers to develop two important characteristics- faith (Shraddha) and patience (Saburi), lead a moral life, help others and love every living being without any discrimination. He encouraged sharing, performing one's duties without any earthly attachments and being content always.
Best time to visit Shirdi:
Shirdi can be visited throughout the year; however, the following is the month wise break-up of the weather in Shirdi to help you plan better: 
December to February: This is the best time to visit Shirdi. The weather is pleasant, which allows for the great time to enjoy the pilgrimage and sightseeing.

March to May: The temperature during this time of the year goes very high. Hence, summers are not a very busy season. So, if you can get good darshan without too much crowd. 

June to August: June is the beginning of the monsoon in Shirdi. Temperatures begin to drop. This is a good time to visit Shirdi. 
How to reach Shirdi Sai Baba Temple
By Train: The Sainagar Shirdi Railway station became operational in March 2009. There are trains from major cities like Chennai, Mumbai, Vizag, and Hyderabad among others. The other option is to get down at Kopargaon. This railway station is at a distance of 18 km from Shirdi. From Kopargaon, trains are available all over India. Similarly, Manmad railway station is another stop that is at a distance of 60 km by road from Shirdi.

By Air: Shirdi Airport was inaugurated on 1 October 2017. There are regular flights from all major cities to Shirdi airport. The airport is located in Kakdi at a distance of 14 km from Shirdi. Alternative nearest major airports are Aurangabad and Pune, 115 km and 186 km respectively from Shirdi. 

By Road: Shirdi is accessible via a good road network from all major cities. The nearby cities are Kopargaon (15 km), Ahmednagar (83 km), Pune (204 km), and Mumbai (240 km). 
FAQs:
Q. 1: Who gave the name 'Sai' to the young Baba?
Ans: Mahalsapati, the temple priest of Khandoba Mandir in Shirdi
Q. 2: Who built the Sai temple in Shirdi?
Ans: Gopal Rao Booty
Q. 3: What is the real name of Sai Baba?
Ans: No one knows the real name of Sai Baba.
Q. 4: Who designed the statue of Sai Baba in the Shirdi temple?
Ans: of Balaji Vasant Talim
Q. 5: What is the significance of Dwarika Mai in Shirdi?
Ans: Before Sai Baba started living in it, Dwarka Mai was an old mosque in dilapidated condition. Baba turned it into Dwarika Mai. It has a perpetual sacred fire (called dhuni) that was lit by Baba when he was alive. The ash from this dhuni is believed to have magical and healing powers. It has a big stone where Baba used to sit. Baba used to lovingly call Dwarika Mai his mother because he felt contented and blissful whenever he seated here.
Get Direction On Google Map