Karwa Chauth Vrat
Karwa Chauth Vrat is a popular festival celebrated by married ladies mainly in Northern and Western India. This year this festival will be celebrated across the country on Sunday, the 24th October 2021. This festival falls 4 days after Sharad Purnima. It is celebrated on the Chaturthi (4th day), during the 'krishna' paksha of the Kartik month, which is the phase of decreasing moon. As per the Gregorian calendar, this day October or November.
A slightly different version of Karwa Chauth is Atla Tadde', which is celebrated in the state of Andhra Pradesh. This version of Karwa Chauth is celebrated on the 3rd night after the full moon in 'Aswiyuja' month of the Telugu calendar, which normally comes a day before the Karwa Chauth when the married Hindu ladies of Andhra Pradesh observe a day-long fast for the long life of their husbands.
Significance of Vrat:
Karwa Chauth Vrat has its roots in Hindu mythology. There are various stories and legends associated with it. The festival founds a mention in the Mahabharata also, where queen Draupadi is believed to have observed this fast for the well-being of her husbands. The festival holds a very special place in the lives of married Hindu women, especially in north and central India.
On this day, the married women observe a complete fast from sunrise to moonrise, where they don't take even water. These days, many men have broken this tradition and started observing fast to provide moral support to their wives. Even engaged females observe this fast. Now even young unmarried girls fast in the hope of getting a handsome and loving life partner.
Preparation of Karwa Chauth:
The festival is a celebration of marriage, during which the Hindu ladies enjoy a lot. They start preparing days before the Karwa Chauth. The markets also bear a festive look, with the shops which sell the related products, display them prominently. The married women visit the market and do shopping for gold jewellery, sarees, shringaar (cosmetics), and pooja items, such as karwa diya (lamps) and decorated thali. The ladies paint these karwas and decorate them with beautiful designs. They put suhaag-related items (bangles, bindi, etc.), sweets, and some money inside the pot. They apply mehendi on their palms, which makes them look even more beautiful.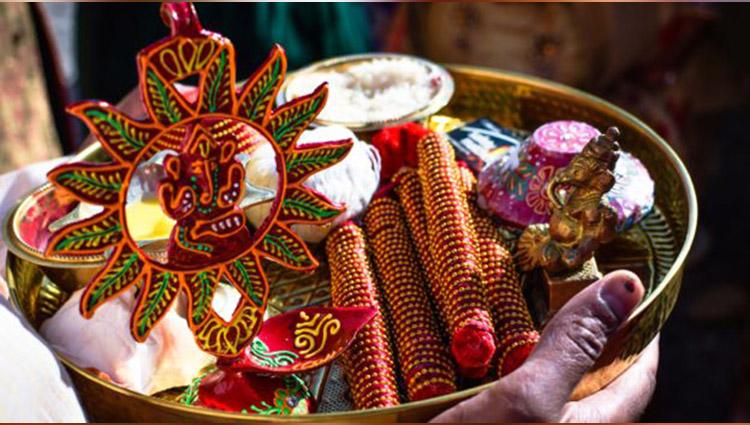 Source: https://viral.newstracklive.comhttps://res.cloudinary.com/impact-pvt-ltd/image/upload/v1621065022/myfayth/image1_ffrhxh.jpg/uploads/october2017/1JIq0qh9FP1507096437.jpg
On the day of the Karwa Chauth Vrat, the married ladies wake up before sunrise. They take a bath and eat the sargi, which is pre-dawn food prepared by her mother-in-law. This sargi holds a lot of importance for the married lady and symbolizes the love between her and her mother-in-law. Karwa Chauth is never complete without sargi.
What does sargi contain?
The mothers-in-law also give some money in advance to their daughters-in-law so that they can do shopping. On the Karwa Chauth morning, the daughter-in-law touches 7 items before eating sargi. These items are then donated to the Panditayin (priestess) in the evening after doing Karwa Chauth group pooja. These are usually suhaag-related items, dry fruits, and money.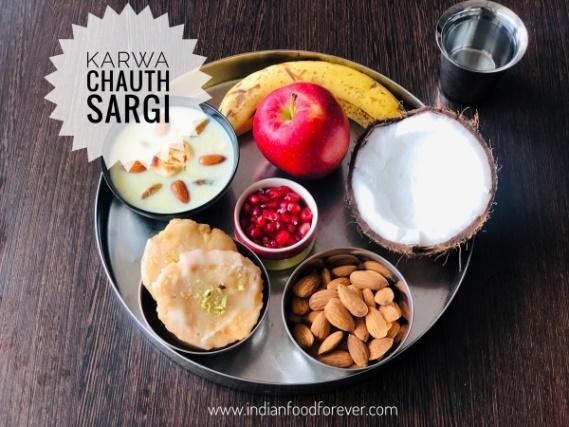 Source: https://www.indianfoodforever.com/iffwd/wp-content/uploads/karwa-chauth-sargi-special.jpg
Mostly done in Punjabi families, Sargi is a special meal prepared by the mother-in-law with great love for her daughter-in-law. The thali is prepared in such a way that provides enough energy throughout the day. The sargi thali is a complete meal that contains dry fruits, sweet and savoury dishes. A typical sargi thali has sweets like pheni, meethi mathri, dry fruits, and other fruits. It also contains parantha and is taken along with tea, coffee, or juice. While eating sargi, it is believed to be a good idea to start with some sweet dish, so that the day starts on a sweet and positive note. After this, the women can eat coconut and then the main course.
Karwa Chauth Pooja:
The ladies perform solah-shringaar (complete make-up) and dress like a bride. In the evening, the ladies of the colony get together and worship Goddess Parvati, Lord Shiva, Lord Ganesha, and Lord Kartikeya. They sing and dance to the folk songs and wish each other.
After the moonrise, the wives worship the moon, and then their husbands offer water to their wives, and that's how the fast is broken. After this, all enjoy the dinner together with love and affection.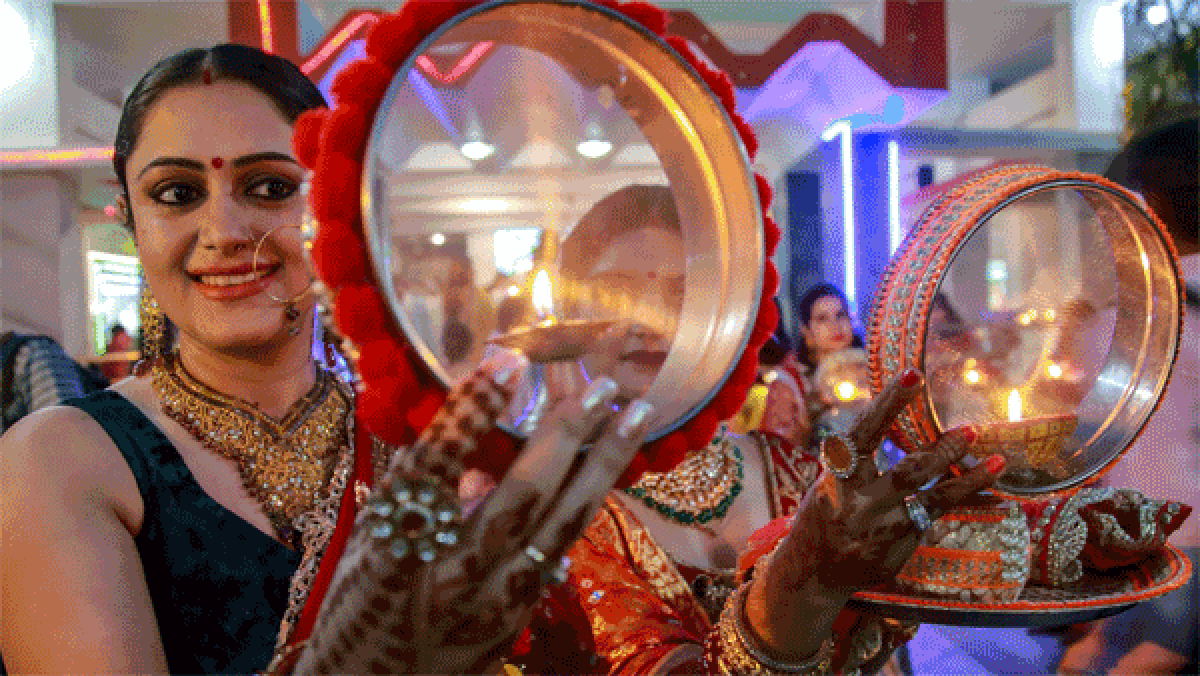 Source: https://www.oneindia.com/img/1200×80/2019/09/karwa-chauth-1569492187.png
Breaking the fast:
Once the moon rises, the married ladies put a red chunari on their heads and remove their footwear. Then light a diya made of 'atta' or wheat flour and look towards the moon through a sieve (channi). They also take the water in the same 'kalash', which was used in the pooja earlier in the day. With this kalash, they offer water (ark) to the moon. Then the ladies see their husband through the same channi. In some places, women touch their husband's feet and seek their love and blessings. While doing this entire pooja, the ladies pray for their husband's good health and long life. Now, the husband offers water to their wives with their own hands, and this is how the fast is broken. Then the entire family enjoys the special meal. 
Things to avoid during the Karwa Chauth Vrat:
The food prepared on this day should not have onion and garlic.

Avoid wearing white, black, or dark blue clothes, as these colours are not believed to be auspicious for this occasion. The best colour is red, which is very auspicious. Many ladies prefer to wear the dress, which they wore during the wedding.

Women are not supposed to go out in the fields.

Women are advised not to use scissors or needles that day.
---
FAQs:
Q. 1: What is Atla Tadde?
Ans: It is a slight different version of Karwa Chauth, which is celebrated in the state of Andhra Pradesh.
Q. 2: Was Karwa Chauth celebrated during times of Mahabharata also?
Ans: Yes, during times of Mahabharat, queen Draupadi is believed to have observed Karwa Chauth fast.
Q. 3: What do ladies shop before Karwa Chauth?
Ans: The married women shop for gold jewellery, sarees, shringaar (cosmetics), and pooja items, such as karwa diya
Q. 4: What colours should not be worn on Karwa Chauth?
Ans: Colour like white, black, or dark blue should not be worn on Karwa Chauth, as these colours are believed to be inauspicious.
Q. 5: Can we have onion and garlic on Karwa Chauth?
Ans: No, onion and garlic are strictly forbidden on Karwa Chauth?