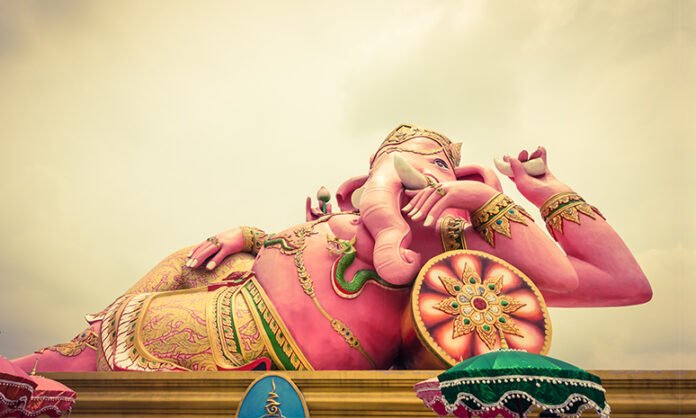 Ganesh Chaturthi Date
Ganesh Chaturthi date for India is Wednesday, 31st of August 2022. This 10-day festival , which as per the Hindu calendar falls in the month of Bhadrapada, during the 'shukla' paksha, of the month, which is actually the phase of the increasing moon. The festival starts with Ganesh sthapna on the Chaturthi (4th day) and goes on till the Chaturdashi (14th day), after which the visarjan is done. As per the Gregorian calendar, Ganesh Chaturthi falls in the months of August or September.
In the year 2022, the festival will be celebrated in September. The Ganpati sthapna will be done on Wednesday, 31st August 2022, and visarjan will be done on Friday, 9 September 2022.
| | |
| --- | --- |
| Ganesha sthapna | Wednesday, 31st August 2022 |
| Ganesha visarjan | Friday, 9 September 2022 |
Where is Ganesh Festival Celebrated?
Lord Ganesha is one of the gods, who is loved one and all. That is why people from all regions worship him. The festival is celebrated across India, though it is more popular in states like Maharashtra, Madhya Pradesh, Delhi, Karnataka, Goa, Tamil Nadu, Andhra Pradesh, Gujarat, Odisha, among others. Within these states also, there are certain cities, which are well-known for extensive celebration, huge Ganesha idols, and splendid pandals, which are done for public celebrations.
Cities to Watch the Best Ganesh Festival
The following is the list of top places, where you can witness the Ganesh Chaturthi date from the 31st August 2022, in full grandeur. So, if you are in any of these cities, on theses dates during the Ganesh Chaturthi, don't miss to visit these places.
1. Ganesh Chaturthi in Mumbai
The best place to view the festival of ganesh chaturthi date is Mumbai. One thing famous about Mumbai is that the city never sleeps. However, the excitement of Ganesh Chaturthi brings Mumbai to a temporary standstill. In a single city of Mumbai, there are more than 2 lakh big and small Ganesh idols installed. Almost all people invite Lord Ganesha to their homes, by installing a small idol of Lord Ganesha. Apart from these private celebrations, there are many youth groups, residential societies, and trade associations which install huge Ganesha idols and worship for full 10 days.
While there are many huge Lord Ganesha, but there are some Ganesha pandals, which are very famous for their larger-than-life Ganesha idols. Some of the most famous Ganesha pandals are Lal Bagh cha Raja, GSB Seva Mandal, Ganesh Galli Mumbai cha Raja, Khetwadi Ganraj, Siddhi Vinayak Temple, Andheri cha Raja, and others. The Ganesh sthapna is followed by elaborate puja, twice a day that is attended by thousands, who come from all parts of Mumbai. There is a very long queue to get a darshan of Lord Ganesha.
On the eleventh day, the Ganesha idols are given an emotional farewell. The elephant-god is taken in a carnival-like procession, where people sing and dance and throw gulaal on each other. The idol is then immersed in the Arabian Sea, with Powai Lake, Juhu beach, and Girgaon Chauapati being the most preferred spots.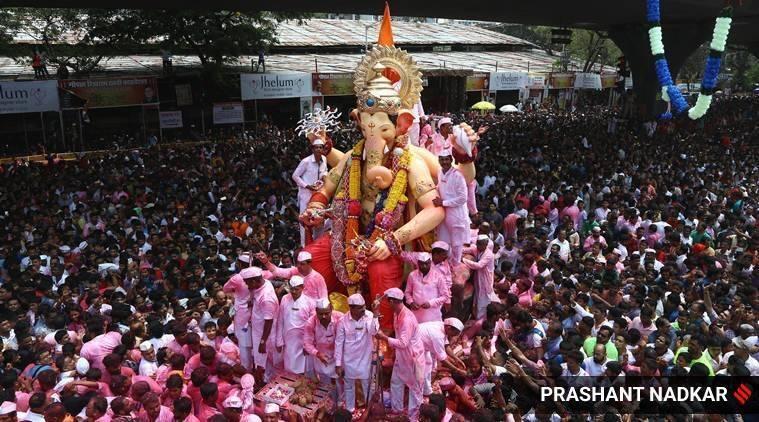 2. Ganesh Chaturthi in Pune
Just about 150 km away from Mumbai, Pune is another city to visit during the Ganesh Chaturthi celebrations. If Mumbai is the political capital of Maharashtra, then Pune is known as the cultural capital of Maharashtra. Pune is known for one of the best Ganesh puja pandals, which are famous across Maharashtra. These pandals are visited by several devotees not only from Pune but also from nearby cities and villages.
During these grand public celebrations, Lord Ganesha is offered 'naivaidhyam' which includes modak, laddoos, and other sweets. People perform traditional dances and songs and enjoy themselves.
The most famous Ganpati pandals, which are must-see in Pune are, Kasba Ganpati, Shreemant Dagduseth Halwai Ganpati, Chintamani Ganesh, Tambdi Jogeshwari, Kesariwada Ganpati, and Tulsi Bagh Ganpati among others.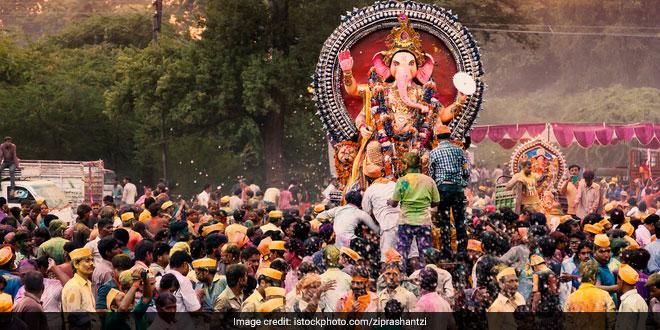 3. Ganesh Chaturthi in Ganpatipule
This is a small town in the Ratnagiri district located on the Konkan coast of Maharashtra. The village is famous for Swayambhu Ganpati Temple, which is more than 400 years old. Located on Ganpatipule beach itself, every year the temple attracts numerous tourists who get the opportunity to witness the grand celebration of Ganesh Chaturthi. Along with the villagers, many pilgrims visit the temple and take blessings from Lord Ganpati. Finally, a huge idol of Lord Ganesha is placed in a palanquin and carried on the shoulders of devotees through the village along with music and drums.
4. Ganesh Chaturthi in Goa
A state mostly known for its tourism is equally famous when it comes to celebrating Ganesh Chaturthi. A neighbouring state to Maharashtra, it not only shares its borders with Maharashtra but shares culture as well. Called Vinayak Chaturthi in Goa, there is nothing less when it comes to zeal and enthusiasm of people. The festival is very close to the hearts of Goan people, who clean and decorate their houses, as they welcome Lord Ganesha in their home. They invite and visit their friends and family and wish them.
Unique to the Goan culture, the Ganesha pandals are decorated using coconut, bamboo, cane, and other such natural materials.
There are many places where Ganesh idols are installed, but the two main places are Ram Mandir, Cumburjua, Marshel Kala Premi, Mapusa. These pandals are visited by people not only from Goa, but also many foreign tourists witness the festivities and also pay obeisance to Lord Ganesha.
5. Ganesh Chaturthi in Chennai
The people of Tamil Nadu are very god-loving, and worship gods with a lot of devotion. Popularly called Vinayakar Chaturthi, the festival is celebrated with great religious fervour by the faithful devotees of Lord Ganesha, who throng the numerous temples across the state. The temples organize special and offer a special dish "kozhakattai" (modak) to Lord Ganesha, which is later distributed as prasad to the devotees. The major Ganesh pandals are installed at Tiruvateeswaranpet, Triplicane, and Alwarthirunagar.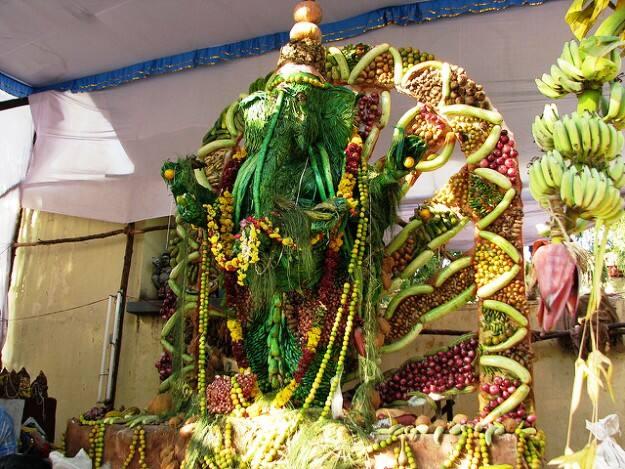 Source: https://s3.india.com/travel/wp-content/uploads/2017/08/3059515786_17baec57e4_z.jpg
6. Ganesh Chaturthi in Hyderabad
The capital city Hyderabad is very famous for Charminar, but it is equally famous for its Ganesh Chaturthi celebration. This 10-day-long festival is celebrated with great vigour and fervour. Gigantic idols of Lord Ganesha are installed in well-decorated pandals for the general public to pay obeisance. The god is offered special sweets like kudumulu, undrallu, and rice porridge are offered to the elephant-headed deity.
One of the most famous pandals in Hyderabad is Khairatabad. A laddoo weighing close to 5600 kg is offered to the deity. Other famous Ganesh pandals include Balapur, Chaitanyapuri, Durgam Cheruvu, Old City, and New Nagole.
After 10 days of rituals, the gigantic idol is immersed mainly in Hussain Sagar Lake, which marks the end of this festival.
6. Ganesh Chaturthi in Hubbali
Coming to Karnataka, Hubbali is the place to be in during Ganesh Chaturthi. Here, along with Lord Ganesha, mother Parvati is also worshipped. Females observe Gauri Vrata and pray to Goddess Parvati for prosperity and good life.
On Ganesh Chaturthi, huge idols of Lord Ganesha and installed, a pundit clad in traditional red dhoti performs the 'praan pratishta' to invoke life into the idol, which is followed by Shodashaopachara, which includes the 16 rituals of paying tribute to the deity.
The daily puja includes offering a different variety of leaves and flowers that appease Ganesha along with chanting of mantras from Vedas and Upanishads make the festivals worth watching.
7. Ganesh Chaturthi in Delhi
Finally, coming to the capital city of Delhi, which is nothing but a Mini India, and an amalgamation of various cultures. The capital city is full of grandly decorated pandals, where the devotees gather and get involved in fun and frolic in the form of music and dance to celebrate the birth of God Ganesha.
While there are several places, where huge pandals are erected, but some of the must-visit pandals for Ganesh Chaturthi are Netaji Subhash Place Ground, Pitampura, DDA Mini Stadium, Laxmi Nagar, Sri Vinayak Mandir Marg, Sarojini Nagar, among others.
Ganesh Chaturthi is one festival, which fills everyone with joy and excitement. Though it is celebrated across the country, the above-mentioned places have their own special place.
Related Post: