Dhanteras 2021 Date
This year in 2021 , Dhanteras will be celebrated on 2nd November. Festivals in India are great occasions to enjoy. All festivals in India are annoyed with great devotion and fanfare. All festivals have some religious significance, and many stories behind celebrating them. One such festival is Dhanteras, which is part of the Diwali festival.
Dhanteras 2021 day and date: Tuesday, 2 November
Celebrated on: Troyadashi of 'krishna' paksh of the Kartik month
When celebrated: 1-2 days before Diwali
Celebrated by: Hindus
When is Dhanteras celebrated?
While Diwali is celebrated on the Amavasya night, Dhanteras is celebrated normally 1-2 days before Diwali, depending upon the position of the moon. Also called 'Dhan Trayodashi', it is celebrated on the Trayodashi (13th day) of the 'krishna' paksh of the Kartik month, as per the Hindu calendar. This happens to be the reducing phase of the moon.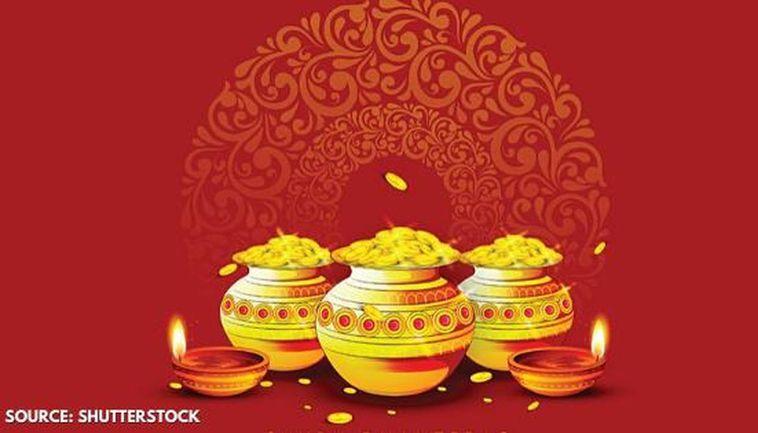 Source: https://img.republicworld.com/republic-prod/stories/promolarge/xxhdpi/3sigdnk3iijz8pu9_1604925426.jpeg?tr=w-758,h-433
Significance of Dhanteras:
Just like other Indian festivals, Dhanteras too has several legends behind it. Two of the most common legends link Dhanteras to Yama, the death of god, and Dhanvantari, the physician of gods and an expert of Ayurveda and other medicines.
According to the first legend, linking Dhanteras to Lord Yama, there was a king called Hima, who had a 16-year-old son. According to the son's horoscope, he was supposed to be bitten by a snake on the 4th day of his marriage, which would cause his death. After he got married, his wife, who loved her husband a lot, decided to turn the fate around. So, on that night, she did not let her husband sleep at all. And to keep him awake the whole night she sang songs and narrated stories, one after another. In addition to this, to lure the snake away, she made a heap of all her ornaments, and coins of gold and silver and lit many diyas near the entrance of their sleeping chamber. As per the legend, when the death of god, arrived in the form of a snake, the extremely bright light coming out of the heap of ornaments, coins, and the diyas dazzled his vision and blinded him. So, he could not enter inside and kept waiting for the right time to enter the room. So, he just sat on the top of the heap of jewellery and coins and kept listening to the songs and stories. He even started enjoying it. When the night got over, he silently left the palace in the morning and spared his life. This way, the young bride saved the life of the young prince with her cleverness and intelligence. Since then people consider it auspicious to buy these items in Dhanteras. Some people worship Lord Yama in the night and offer prayers to seek his blessings and protect them from untimely death. People clean their house; decorate it with flowers, lights, and diyas to keep the evil forces and negative energy away.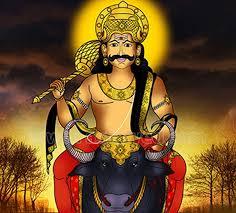 Source: https://encrypted-tbn0.gstatic.com/images?q=tbn:ANd9GcQLo1dXHq8EyYU-R1fGFgksXUl5kvk_bmOXhQ&usqp=CAU
There is one more popular legend which links Dhanteras to Lord Dhanvantari. An incarnation of Lord Vishnu, Dhanvantari, is believed to have emerged out of the sagar-manthan (churning of the ocean) on the day of Dhanteras. When he emerged out of the ocean of milk, he was carrying a pot of divine amrit (elixir of immortality) in one hand and sacred text related to Ayurveda in the other hand. As per Hindu mythology, Dhanvantari is the physician of gods, who imparted the knowledge of Ayurveda to mankind, for its betterment and to provide relief from various diseases.  So, Dhanteras holds a lot of significance for people who practice Ayurveda or are involved in the medical profession in some way or the other. The people who practice Ayurveda worship him and seek his blessings.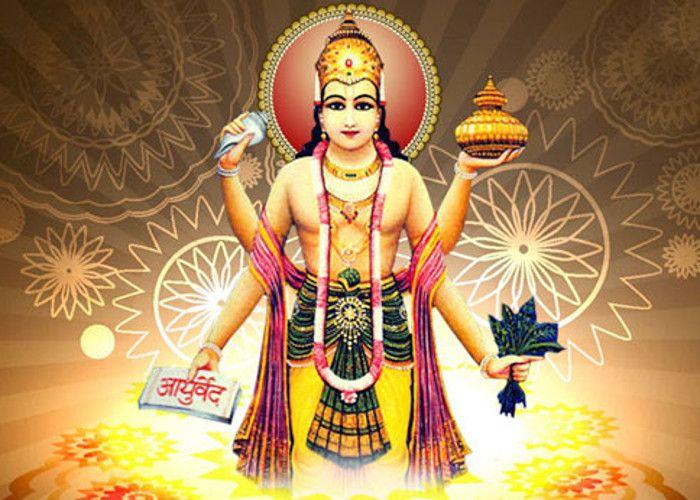 Source: https://new-img.patrika.com/upload/mediafiles/2015/11/09/dhanvantari-1447053136_835x547.jpg
How will dhanteras in 2021 be celebrated?
Derived from two Hindi words, 'Dhan' (meaning money or wealth) and 'Teras' (13th day), Dhanteras marks the beginning of Diwali. Just before Diwali people clean their houses, shops, and offices, whitewash them, and decorate them with flowers, lights, and other decorative items to keep the evil forces and negative energy away.
On the day of Dhanteras, buying utensils, gold and silver jewellery is considered auspicious. In modern times, people also buy heavy ticket items like mobiles, electronic goods, and vehicles on Dhanteras. As a result, a huge crowd can be seen outside these shops. The shops or showrooms selling these items make special arrangements on Dhanteras. They decorate their shops and display the product prominently. On this day, these shops open till late in the night. According to Hindi mythology, the broomstick symbolizes Goddess Laxmi. So, buying a jhaadu (broomstick) is considered auspicious this day to keep poverty away from home. That is why touching broom with our feet is considered to be disrespect to Goddess Lakshmi.
At home, the ladies and children make a rangoli outside their house, while other family members decorate the house with lights, lanterns, and other decorative items. In order to welcome Maan Lakshmi, small footprints of Goddess Lakshmi are drawn starting from the entrance, to all over the house.
Since Goddess Laxmi also emerged out of the ocean (during the sagar-manthan) on this very day, she is also worshipped along with Dhanvantari and Lord Ganesha. In the evening, the people perform Laxmi Pooja, where they also worship whatever utensil or jewellery they have bought in the day. They offer parmal (puffed rice), candy toys, batashas (hollow sugar cakes), and rice cakes to Maan Lakshmi, and Lord Ganesha. After this, they light these earthen diyas and place them at the entrance of their home. One diya is placed at the base of a Tulsi plant. This diya is an offering to Yama, the god of death to bless them and avert untimely death.
People then go and meet or call their friends and relatives and wish them. In Maharashtra, people offer dried coriander seeds, 'dhania', (Dhane in Marathi, for Dhan Trayodashi) along with 'gur' (jaggery) as Naivedhya.
Final words:
Dhanteras is a festival related to Lord Yama and Lord Dhanvantari. People worship these gods and seek their blessings. A few years ago, the Government of India announced to celebrate Dhanteras, as the "National Ayurveda Day". The first celebration was done on 28 October 2016. 
---
FAQs:
Q.1: What is the date for dhanteras 2021?
Ans: Dhanteras is celebrated 1-2 days before Diwali and is on2nd November,
Q.2: Dhanteras is associated with which gods?
Ans: The festival of Dhanteras is associated with Lord Yama, the god of death, and Lord Dhanvantari, the physician of gods, and an expert of Ayurveda.
Q. 3: What is considered auspicious on Dhanteras?
Ans: On Dhanteras, it is considered auspicious to buy utensils, and silver or gold coins or jewellery.
Q. 4: Why do people buy broomstick on Dhanteras?
Ans: The broomstick is supposed to symbolize Goddess Laxmi. So, buying a broomstick on Dhanteras is believed to keep poverty away from home.
Q. 5: What happens if we touch a broom by feet?
Ans: As per Hindu mythology, the broom is considered to be a symbol of Mother Lakshmi. Hence touching the broom by feet is considered to be disrespect to Goddess Lakshmi.