Amarnath Temple is one of the holiest shrines for Hindus. As per Hindu mythology, there is a supreme trinity of gods – Bramha, Vishnu and Mahesh (Shiva). Lord Shiva is mostly worshipped in the form of 'Shivling', which is an abstract representation of Lord Shiva. The word shivling is made up of two words, Shiv + linga. The word 'Shiv' refers to Lord Shiva and 'linga' or 'lingam' means 'sign, symbol, or mark'. The word Amarnath is made up of two words, 'Amar' means immortal and 'Nath' means Lord. Thus, Amarnath means 'immortal god'. The Amarnath temple is one of the 51 'Shakti Peeth'. Amarnath Cave is famous for its annual Amarnath Yatra (Pratham Pujan) which is organised by the government of Jammu and Kashmir.
Amarnath Temple
| | |
| --- | --- |
| Deity: | Lord Shiva |
| Discovered by: | Sage Bhrigu |
| Location: | Anantnag District, J & K |
| Time of Amarnath yatra: | July to August |
How is the Shivling formed?
The Shivling is formed by the leaking water-dropping down from a narrow cleft on the cave's roof. By this process water freezes in the form of a tall, sharp and smooth conical shaped ice lingam. It has been observed that the lingam reaches its full shape of Shivling in the Shravan month (according to Hindu calendar July – August, which after begins melting as with the changing of the phase of the moon and by end of the August it is just a few feet in height.
History of the Amarnath temple
It is believed that the Amarnath cave temple is about 5,000-year-old. Amarnath cave is about 150 feet high and 90 feet long. The religious significance of Amarnath can be referred to from Rajatarangini. It is a belief that in the 11th century, Queen Suryamathi presented this temple with a Trishula and with various offering to the temple.
The legend behind the Amarnath cave temple
A very popular legend states that once Goddess Parvati asked Lord Shiva about the beads (Rudra) that he donned on his head. To this Shiva replied that each bead is a symbol of her birth. Every time, Parvati takes a birth, a bead is added. Parvati got curious to know more about this and asked Shiva, "Why do I die and take birth again and again, whereas you are immortal?"
Lord Shiva did not want to answer this question, so he tried a lot to dissuade her. But, Parvati kept on insisting. Finally, Lord Shiva agreed to tell her the secret story behind this, which was called, the 'Amar Katha'. Since this was a divine secret, and hence very confidential, Lord Shiva wanted to choose a safe and isolated place so that no living being could hear this secret Amar Katha. So, Lord Shiva chose an isolated cave 3,888 meters above sea level, in a ravine inside of the Himalayas in South Kashmir. This place was chosen because it is very difficult for the common man and even gods to reach here.
Since Lord Shiva wanted to keep this meeting very confidential, he did not carry his belongings with him to the cave and left them at various places. He got off his ride, Nandi; the bull at 'Bail Gaon' (Now called Pahalgam). He released the moon off his locks (which is always placed on his head) at Chandanwadi. He left the snake which is wrapped around his neck on the banks of Lake Sheshnag, and the five elements of life (Air, Water, Fire, Earth and Sky) at Panchtarni. He asked his son Ganesh to stay at Mahaguna Parvat. This way, Lord Shiva sacrificed all his worldly possessions. 
After this, Lord Shiva entered this holy Amarnath Cave with Parvati. It is believed that he sat on the Deer Skin and took samaadhi. To ensure that there is not even a single living around, he created a Rudra named Kal-Agni (the fire of death). Shiva ordered Kal-Agni to set fire around the entire cave so that everything living around that place could be burnt to death.
Once satisfied, he got into a Samadhi and started narrating the story of immortality to Parvati. However, despite his best efforts, one egg was not destroyed, which was under the deerskin, where Shiva was sitting. Kal-agni could not destroy it, because, at that time, it was in an egg-form, and hatched only after the fire subsided. So, out of that egg, a pair of pigeons was born.
Meanwhile, while the Siva was narrating the Amar Katha, Parvati felt tired and fell asleep, but 2 pigeons heard the entire story and became immortal.It is said that if you see the 2 white pigeons at the Amarnath Cave Temple, it is considered very auspicious during the yatra. It is said that even today, the 2 pair pigeons visit the temple every day. Even today pilgrims can still see the pigeon pair while going towards the Amarnath Yatra
Discovery of the Cave Temple:
The cave was discovered by Sage Bhrigu. As per the belief, a long time ago, the Kashmir valley got submerged in water. Seeing all plants and animals in distress, Sage Kashyap (one of the Saptarishis decided to drain the water. So, he created a series of rivers and rivulets and drained the water out of the entire valley. Once the entire water was drained, it was sage Bhrigu, who first had the darshan of Lord Shiva at Amarnath. Soon, its popularity spread, and it became a must-visit abode for all devotees of Lord Shiva.
However, there is another folk-lore that contradicts this legend. As per this, the cave was discovered by a poor Muslim shepherd boy named Buta Malik found the cave in the year 1850. The shepherd boy had done a lot of service to a sage. He sage gave him a bag of coal, which turned into gold after some time. When the shepherd went to thank him, he did not find the saint but ended up discovering the cave and the shivling.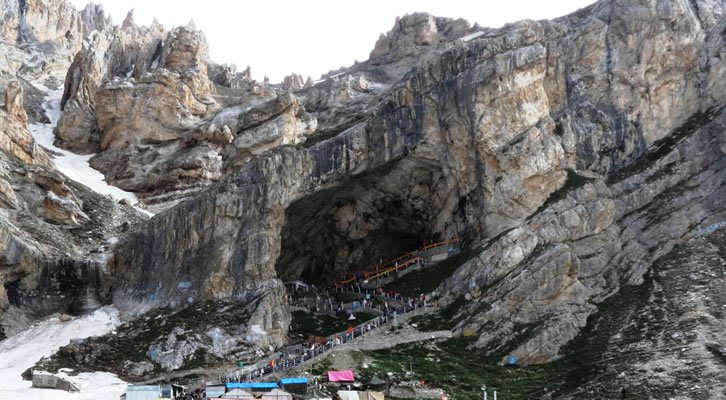 Main festival at Amarnath Temple:
Maha Shivratri (the great night of Shiva) is the main festival is celebrated at Amarnath temple with all the rituals. This festival is celebrated annually in honour of Lord Shiva. There are 12 more Shivratris that are also celebrated and occur before a new moon and many more Hindu festivals are also celebrated.
Best time to visit:
The Amarnath cave is situated at the height of the Himalayas which is covered by snow most of the time but in the summer season snow starts to melt and make a way for the pilgrims to have a darshan of Lord Shiva so the best time to visit is from July to August. Try to avoid the winter season it can be quite extreme.
How to reach: 
By Air: The nearest airport is at Srinagar, which is 72 km away from the Amarnath temple. You can get a bus or helicopter from Srinagar to Panjtarni which is 2 km away from the temple.
By Road: The nearest bus station is Baltat or Pahalgam which are well connected to the different cities of Jammu and Kashmir. Temple is 15 km away from the Baltat and 40 km away from Pahalgam. There is no road to reach the temple directly. People cover this path on foot or use a pony.
By Train: The nearest station is Jammu Tawi Railway Station, which is 178 km away from the Amarnath. You can take a bus and taxi to reach Baltat and Pahalgam.
Important points about at Amarnath temple:
         The cave and the surrounding mountain are covered with snow around the year. So, the temple is open for pilgrims in the summer season for a short period only.
         Amarnath Yatra occurs only in the month of Shravan (according to the Hindu calendar) which is July and August. Due to weather conditions, these are the best months to reach the cave.
         Only in the month of Shravan can witness the full shape of the Shivling. After that, the shivling starts to melt and by August it's just a few feet in height.
         The yatra of Amarnath cave is almost for 15 days to 2 months.
         During the yatra, it is mandatory to carry identity proof like Voter ID, Passport, etc.
Registering for Amarnath yatra:
There is a registration process for Amarnath Yatra, and for the helicopter services, it is required to take a medical fitness certificate from a doctor authorized by SASB (Shree Amarnath Shrine Board).
There are two ways to register for the Amarnath Yatra – offline or online. For both modes, verification is compulsory. One needs to submit the required details and provide supporting documents. This is mandatory for security as well as health reasons.
For registration, there is an age limit from 13 years to 75 years and women who are less than 6 weeks pregnant.
There is no fee for registration. The only fee is the yatra permit fee, which is Rs. 100. But helicopter and other services are not included in this.
Around 4,00,000 people visit this holy shrine every year with a lot of devotion.
FAQs:
Q.1: How is the shivling at Amarnath commonly known?
Ans: Baba Bholenath or Baba Barfani
Q. 2: Is Amarnath yatra dangerous?
Ans: Yes, Amarnath yatra is not easy as the road is too narrow and the level of oxygen is 0%. So, medical fitness is compulsory. There are rules regarding the registration for security purpose so that government can arrange all the services for registered devotees.
Q. 3: Can unmarried women touch the Shivling?
Ans: It is believed, touching the Shivling is prohibited for unmarried women because in Amarnath Lord Shiva remains in a state of penance.
Q. 4: Is there any registration process for Amarnath Yatra?
Ans: There is a registration process for Amarnath Yatra. Even for helicopter services, it is mandatory to take a medical fitness certificate from a doctor approved by SASB (Shree Amarnath Shrine Board). It is a must to have identity proof during Yatra like Voter ID, Passport, etc.
Q. 5: Is there any age limit for Amarnath Yatra?
Ans: Yes, there is an age limit for Amarnath Yatra only below 13 years and above the age of 75 years and women who are less than six weeks pregnant are allowed to have registered for Amarnath Yatra
Get Direction On Google Map