Akshardham Temple, New Delhi – Architecture of the temple:
The entire Swaminarayan Akshardham Temple complex is built based on the principles of Indian Vastu Shastra and Pancharatra Shastra. The temple is an architectural beauty with more than 234 beautifully carved pillars, 9 elaborate domes, 20 quadrangle spires and more than 20,000 sculptures of great spiritual gurus of India. 
The whole temple is built using Italian Carrara marble and pink sandstone from Rajasthan. Nowhere in the temple, has any ferrous metal been used. There is no support from steel or concrete. The temple was designed by BAPS Swamis and Virendra Trivedi, a member of the Sompura family.
Similar to its predecessor Swaminarayan Akshardham temple in Gandhinagar, Gujarat, here also the formal point of the temple is the main shrine and occupies the central position of the entire complex. The height of the temple is 43 meters (141 feet) and is spread over an area of 96 m X 109 m (316 feet X 356 feet). The entire temple display intricate carvings of plants, animals, dancers, musicians, and various deities.
The central dome of the temple houses the 11 feet (3.4 m) high statue of Swaminarayan seated in 'abhaya-mudra' (pose of fearlessness). The temple has also sub-shrines, which contain idols of Sita-Ram, Radha-Krishna, Shiv-Parvati, and Lakshmi Nayarana. All statues are made of paanch dhaatu (5 metals), as per the Hindu tradition. 
On 13 July 2010, a newly designed garbha-gruha was added to the temple. The new sanctum was inaugurated by Pramukh Swami Maharaj in the main monument within the temple complex. The new garbha-gruha includes a decorated, canopied sinhasan, which rests the statue of Swaminarayan. The new garbha-gruha features intricate carvings and gold-leafed designs. 
Major attractions within Akshardham Temple:
In addition to the main shrine, there are many more attractions within the Swaminarayan Akshardham Temple complex. The Abhishek Mandap, within the temple complex, includes a water show, a thematic garden, and three exhibitions.
1. Sahaj-Anand Darshan [Hall of Values]
The Sahaj-Anand Darshan hall, also known as the Hall of Values, makes use of contemporary technology and modes of communication to provide information about the life and work of Swaminarayan. The hall has uses many life-like robots and dioramas to narrate the life incident and messages of Swaminarayan. There are about 15 different incidents that highlight the importance of peace, harmony, humility, service to others and devotion to God. 
These small skits take the audience to 18th century India. The way these skits are designed, the audience feel as if they are present there, and witnessing the incident in reality. The skits give the eternal messages from ancient Hindu culture, such as non‐violence, vegetarianism, perseverance, prayers, morality, and family harmony. These 3-dimensional dioramas make use of state of the art robotics, light and sound effects, dialogues, and music to create a wonderful effect. A highlight of this hall is the world's smallest animatronic robot in the form of Ghanshyam Maharaj, the child form of Swaminarayan. 
There is a small entry ticket to this exhibition.
2. Neelkanth Darshan [Theatre]
The Akshardham Temple houses Delhi's first and only large format screen (85 feet X 65 feet). The theatre shows a 40-minute film. This film specially made for the complex shows the early life of Swaminarayan as the teenage yogi, Neelkanth.
Called Neelkanth Yatra, the film recounts the pilgrimages journey through India made by young teenage Swaminarayan, which lasted seven years. The film produced by BAPS Charities was released in 2005. Outside the theatre, one can see a 27 feet tall bronze statue of Neelkanth Varni.
3. Sanskruti Vihar [Boat Ride]
This is one boat ride that you will never forget throughout your life. This boat ride takes you through a cultural journey of 10,000 years in 12 minutes. The boat ride highlights the glorious heritage of Indian culture using life-size figures and robotics to depict life in Vedic time India, and showcases various walks of life – from families to bazaars, and even teaching. 
The boat ride also shows the great contributions made by Indians of Vedic times which include Aryabhatt, Panini, Sushruta, Charaka, Kalidas, Chanakya, and many more. All these people have made India proud with their inventions and discoveries in the areas of science, astronomy, arts, literature, yoga, and mathematics among others. The boat ride also takes you through a view of Takshila, the world's first university, and the teachings being given there, which included horse riding and warfare. 
It moves to medieval times, during the times of the 'Bhakti Movement' and shows saints like Kabirdas, Meera Bai and Ramananda. It then moves to more recent times and highlights the contributions made by modern Indian mathematicians such as JC Bose, Ramanujan, CV Raman, SC Bose, and great philosophers like Swami Vivekananda.
Image Source: akshardham_boat-ride-vedic-hospital
4. Sahaj Anand [Musical Fountain]
Musical fountain is yet another attraction of the Akshardham Temple, which is very popular among children, young and adults. Designed in the shape of a yagna-kund, this is India's largest step-well. Due to its shape, the kund is called 'Yagnapurush Kund', and has a long series of steps down to a traditional 'yagna kund'. 
During the daytime, these steps are used by visitors to take some rest, and during the evening this becomes a seating area to witness the amazing musical fountain show named Sahaj Anand. The 24-minute multi-media water show uses a variety of media to present a breath-taking story from the Kena Upanishad. With Multi-color lasers, video projections, underwater flames, water jets and surround sound in symphony with lights and live actors the show brings the incidents alive before the audiences. 
The fountain is in a square shape measuring 300 feet on each of the four sides. It has 2,870 steps and 108 small shrines. At the centre of the structure, there is an eight-petaled lotus-shaped yagna kund, which is designed as per the Jayaakhya Samhita of the Pancharatra shastra.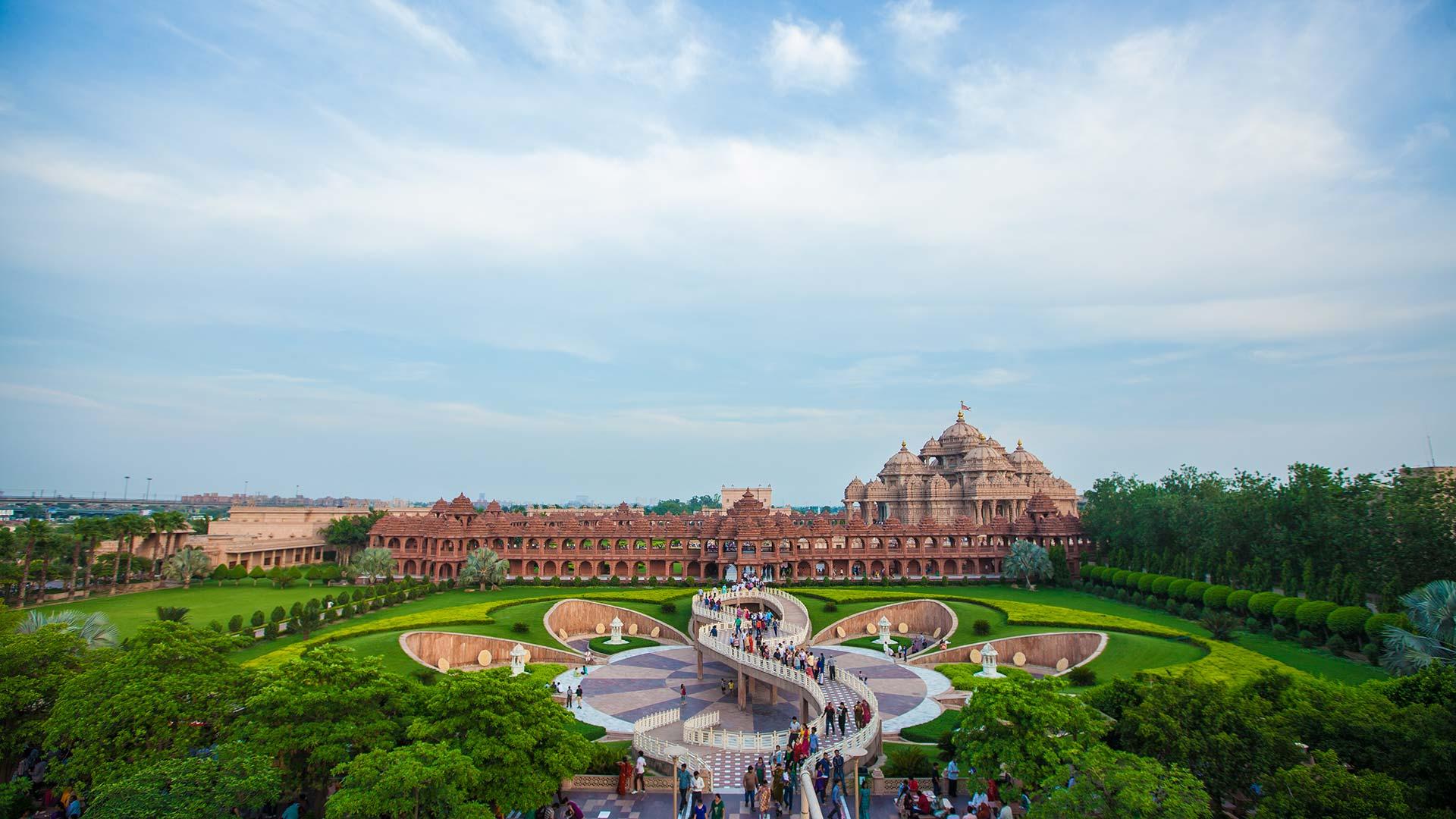 Image Source: Sahaj Anand Musical Fountain
5. Bharat Upavan [Garden of India]
There is a beautiful garden also inside the Swaminarayan Akshardham Temple complex. Called Bharat Upavan, one can see lush manicured lawns, trees, and shrubs inside the garden. All over the garden, there are bronze sculptures of people who have made a remarkable contribution to India's rich culture and history. 
The garden has a beautiful sunken garden as well. When viewed from above, it looks like a lotus. Called the 'Yogi Hriday Kamal', it features large stones engraved with quotes from great world leaders, writers, and philosophers.
In addition to these major attractions, there is a food court that serves only vegetarian food and Narayan Sarovar, which contains water from 151 holy rivers and lakes of India. There is a souvenir shop as well from where you can buy books and gifts. 
Ticket Prices Of Akshardham Temple, New Delhi:
There is no entry fee to the temple. But to see the exhibitions and the water show, one needs to buy a ticket. 
The ticket prices for the exhibition are given below:
Children below 4 years: Free
Children below 11 years: INR 100
Adults: INR 170
Senior Citizens: INR 125
The ticket prices for the Musical Fountain or Water Show are given below:
Children below 4 years – Free
Children below 11 years: INR 50
Adults: INR 80
Best time to Visit Akshardham Temple:
The Swaminarayan Akshardham Temple is open to the general public from 9:30 am to 6:30 pm. The tickets for exhibitions are sold between 10 am and 5 pm. The temple is closed on Mondays.
In terms of months, Delhi is very hot during summers. So, the best time to visit Delhi is during winters from October to March, though December and January are quite cold months and days have a foggy start during these 2 months.
How to reach Akshardham Temple, Delhi
Being located in Delhi, the capital of the country, it is very each to reach Akshardham Temple:
By Air;

Delhi has 2 airports terminals – one international and one domestic. There are flights available from all the major cities of the world. Once you are out of the airport, you can hire a cab or even take a metro to

reach Akshardham temple.

By Train:

Delhi is a major railway hub with trains coming from all parts of India. There are quite a few railway stations within Delhi. From there, you can hire a cab, auto, local bus or even metro to reach here.

By Road:

Delhi being the capital has a very good road network, which connects it to all major cities of the country. Major cities nearby Delhi are Ghaziabad (21 km), Noida (23 km), Faridabad (32 km), Chandigarh (250 km), and Jaipur (286 km).

Within Delhi:

Delhi has a very good public transport system, which includes DTC buses, and even the metro. There is one particular metro station for Akshardham temple on the 'Blue Line"
Frequently Asked Questions about Swaminarayan Akshardham Temple:
Q. 1: Who built the Akshardham Temple?
Ans: Inspired by Yogiji Maharaj, the temple was constructed by Pramukh Swami Maharaj (spiritual head of BAPS)
Q. 2: Is there an entry ticket to Akshardham temple?
Ans: There is no entry fee to the temple. But to see the exhibitions and the water show, one needs to buy a ticket.
Q.3: Can I reach Akshardham temple by taking Delhi metro?
Ans: Yes, the 'Blue Line' f Delhi metro has a station by the name "Akshardham Temple'. From there, the temple is within walking distance.
Q. 4: What is the meaning of Akshardham?
Ans: The word Akshardham means an abode of eternal values.
Q. 5: When was the Akshardham temple opened for the public?
Ans: 6th November 2005[/vc_column_text][/vc_column][/vc_row]
Get Direction On Google Map